By Yang Yi, People's Daily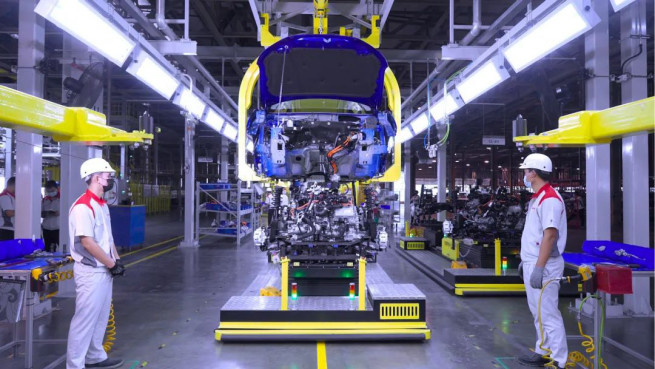 Photo shows an intelligent workshop of a plant owned by Chinese carmaker Great Wall Motor in Rayong, Thailand. (Photo from Great Wall Motor)
Statistics showed that China's vehicle exports to ASEAN grew 48 percent year-on-year to $5.8 billion last year, accounting for 26 percent of ASEAN's vehicle imports.

In the first five months this year, China's vehicle exports to ASEAN still maintained momentum for rapid growth.

The constantly deepening China-ASEAN cooperation in the sector is contributing to the rapid development of the automobile industry of relevant countries.

Last year, Thailand's vehicle imports from China surged 255 percent, the highest among all ASEAN countries. Chinese new energy vehicle (NEV) maker BYD announced last September to set up a facility in Thailand, which is expected to be put into operation in 2024 and produce 150,000 vehicles annually. The vehicles produced in the factory will be sold domestically and to other ASEAN countries.

Apart from BYD, other Chinese carmakers including Neta and SAIC Motor also plan to build factories for vehicle and key NEV parts in Thailand.

Since SAIC-GM-Wuling Automobile, a joint venture between SAIC Motor, General Motors, and Liuzhou Wuling Motors Co., Ltd. built a factory in Cikarang, Indonesia in 2015, the enterprise has constantly upgraded its products based on local demands.

The company sold over 30,000 vehicles in Indonesia in 2022, up 17 percent from a year ago. So far, its total sales in the country has exceeded 100,000 units.

Xu Haidong, vice chief engineer of China Association of Automobile Manufacturers told People's Daily that Chinese carmakers will witness rapid growth in their direct overseas investment as China's vehicle exports continue rising.

"More and more Chinese automobile manufacturers are entering the ASEAN market and building facilities there," Xu noted.

Proton, a car brand established in the 1980s, was once the largest carmaker in Malaysia. However, its development had been stagnant due to its lack of innovation.

In June 2017, Chinese multinational automotive company Geely acquired a 49.9 percent stake in the struggling Malaysian company to help it revive.

In 2019, Proton's factory in Malaysia's Tanjong Malim completed expansion and the company started to making profit, doubling its revenue from a year ago.

"After six years of integrated development, Proton has gone through a comprehensive reform in R&D, manufacturing, quality, purchasing and marketing. Its sales and market share have ranked second in Malaysia for four consecutive years," said Miao Yajun, vice manufacturing president of Proton.

Proton chairman Dato' Sri Syed Faisal Albar said that Geely has accelerated the development of Proton, which has not only reclaimed the Malaysian market, but also expanded the overseas market.

It is believed that Proton will see more prosperous development supported by Geely's global system, the chairman added.

In February 2020, China's Great Wall Motor (GWM) announced to acquire General Motor's production facilities in Rayong, Thailand. The new factory, with an annual production capacity of 80,000 units, became operational in 2021. Sixty percent of the vehicles produced in the factory are sold domestically.

The factory has not only created over 1,000 jobs for local communities, but also cooperated with local charging operators to develop a charging service map that covers more than 50 percent of Thailand's public charging network.

Over recent years, ASEAN countries have rolled out a series of incentive policies to promote green development and the electrification of vehicles. Chinese NEVs are favored by more and more consumers from these countries thanks to their performance.

This April, SAIC-GM-Wuling Automobile signed a memorandum of understanding on NEV investment with the Indonesian government. According to the document, the company will further expand its investment in Indonesia to strengthen the country's NEV development.

Last December, Proton sent its employees to Hangzhou, east China's Zhejiang province for a half-year training program on NEV R&D, production, sales and maintenance, and five months later, the company launched its first hybrid model X90, which marked a huge step forward for the company on the journey of the new energy transition.

Malaysian Prime Minister Anwar Ibrahim said it is expected that Geely and Proton can deepen their cooperation, launch more NEV models, and build Malaysia into an NEV hub of the ASEAN.

Thailand's KASIKORN Research Center estimated that Thailand's production of pure electric vehicles (EVs) will hit 50,000 units this year, and the share of Chinese pure EVs will increase from 78 percent in 2022 to 85 percent.

Chinese battery giant CATL recently reached an agreement on cell-to-pack cooperation with Thailand's Arun Plus, aiming to build Thailand into a battery production center in Southeast Asia.

Chula Sukmanop, secretary general of the Eastern Economic Corridor Office of Thailand, noted that China's NEV enterprises have brought other companies in the automobile industry to Thailand, too, including those engaged in the manufacturing of auto parts, tires, cells and charging poles. These companies have not only created local jobs, but also launched technical and talent training, which is conducive to improving the quality of the Thai labor force, he added.