By Wang Fang, Ding Zi, Sun Guangyong and Lin Rui from People's Daily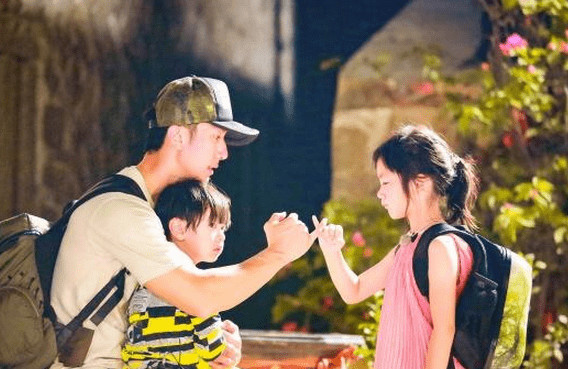 Wu Chun plays with his daughter and son in a Chinese reality show. Photo from internet
About 80 politicians, businessmen, scholars and reporters shared stories of China-Brunei friendship at a cultural exchange activity held in Brunei's capital Bandar Seri Begawan on Nov. 15, revealing the profound friendship between China and Brunei.

The Maritime Silk Road is a witness to the inseparable relations between China and Brunei, said Muhd Firdaus Bin Abdul Rahman, president of Brunei-China Friendship Association (BCFA) during the activity titled China-Brunei Friendly Exchange.

Rahman shared his personal experience about China's reform and opening up. "China is a country in rapid development, and I can't remember how many times I have been there. I once paid in cash there, and the locals were just astonished. Indeed it was me that was left behind in a major Chinese city where mobile payment is prevalent," the BCFA president noted.

"Are we really left behind, or is China developing too fast? That is a question that always strikes me," he said.

Li Hui, coming from China's Hebei province, now works as the head coach of Brunei's national martial arts team. After visiting Brunei with a Chinese martial arts delegation in 2007, Li was invited to coach local Bruneians because of the charm of Chinese Kung Fu.

"I was shocked when I arrived here, because there was neither athlete, martial arts arena, nor facility at all. The first batch of martial arts athletes in Brunei's history was trained by me from local elementary schools," Li introduced.

After over 10 years since Li's arrival, Brunei's national martial arts team has won honors for the country, and 4 of the athletes were awarded by Brunei's Sultan for their outstanding contribution.

"I hope the development of martial arts will be better in Brunei and become a bridge of friendship between China and Brunei," Li said.

During the activity, a pair of Brunei teacher and student have attracted attention. The teacher was the principal of Brunei's Chung Hwa Middle School Kho Guik Lan, and the student Wu Chun, famous Bruneian actor and singer.

"I've been teaching at Chung Hwa Middle School for 38 years, during which I always took students to China's Fujian province to seek roots," Kho said, adding that the communication with Chinese students, as well as the art and martial arts activities have left a deep impression on them. "Now, we take over 200 students to China each year," she introduced.

Wu expressed his appreciation to his teacher. "I remember we were taught to be loyal, filial, kind and righteous at school by the teachers. We were too young to understand that back then, but my experiences in China nowadays give me a deeper understanding of Chinese culture," Wu said.

Wu participated in a Chinese reality show with his children, in which he went to different Chinese cities and rural areas to experience the life of ordinary people. "It was good for both me and my children," Wu said. Now, his two children are both studying at Chinese-language schools.

These beautiful stories are a bond of friendship between the two countries, and behind these stories is the common aspiration of the two peoples.

"Mutual identity is a premise for friendship," Rahman told People's Daily, adding that the exchange activity has touched the people with its vivid and warm stories.

A great many of touching stories happened during the increasingly closer exchanges between China and Brunei in various fields. Chinese President Xi Jinping's state visit to Brunei is bound to further deepen China-Brunei ties and promote bilateral practical cooperation in each field.