By People's Daily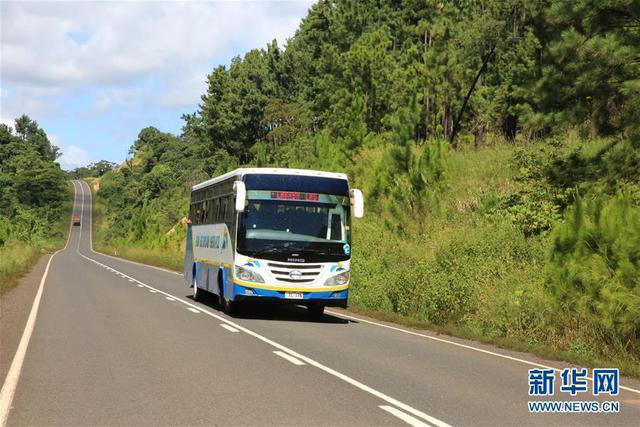 A bus is running on Fiji's Nabouwalu highway undertaken by a Chinese company.
Chinese President Xi Jinping and leaders and officials from eight Pacific island countries, which have established diplomatic ties with China, agreed to elevate their relations to a comprehensive strategic partnership featuring mutual respect and common development in Port Moresby, capital city of Papua New Guinea (PNG) on Nov.16th.

During the collective meeting Xi hosted for PNG Prime Minister Peter O'Neill, President Peter Christian of the Federated States of Micronesia, Prime Minister Tuilaepa Malielegaoi of Samoa, Vanuatu Prime Minister Charlot Salwai, Prime Minister Henry Puna of the Cook Islands, Prime Minister Samuela Akilisi Pohiva of Tonga, Niue Premier Toke Talagi and Fiji government representative, Defense Minister Ratu Inoke Kubuabola, they also reached a consensus to create new all-round cooperation after discussing on deepening relationship.

China has proactively opened its market to the island countries, expanded investment in and import from the countries, and welcomed them to board the express train of China's development, Xi said, adding that the friendship between the peoples on both sides will become even deeper as communication and cooperation between China and the island countries boom.

PNG is the largest absorber of Chinese investment among the Pacific island countries, with a $44.47 million in direct investment in 2017. Data indicated that bilateral trade in 2017 amounted to $2.836 billion, up 24.4 percent year on year.

In the same year, Chinese companies signed engineering contracts worth $1.73 billion in PNG and registered a turnover of $440 million. Their investment and business establishment also added momentum to local economy.

The Belt and Road Initiative has offered timely assistance to PNG's economic development, as multiple infrastructural projects are under construction in the country. The poor traffic conditions on the mountainous island of New Guinea, which contributes the largest land area to the country, had greatly hindered its economic steps.

Lauding Belt and Road Initiative as a great one for developing countries like PNG, O'Neill said that it helps strengthen connectivity and infrastructure construction in the Pacific islands region.

The initiative, according to him, will benefit the people living in remote areas, and both PNG and other Pacific island countries.

Thanks to the construction and upgradation by a Chinese company, Fiji's Nabouwalu highway, once dusty in the dry season and bogged down in the wet season, has now become a modern road with a smooth surface, Fijian Prime Minister Voreqe Bainimarama stressed at the opening ceremony of the road extension project.

The 70 km highway on Vanua Levu, the second largest island of Fiji, was constructed and upgraded by China Railway First Group (Fiji) Co., Ltd (CRFG). Upon completion, it has cut travel time from more than four hours to around one hour.

Wang Gang, a chief of the CRFG, said that the company has won 28 project bids in South Pacific region since it was established about 10 years ago.

He added that the Fijian branch has employed over 130 management personnel from local community so far, and hired more local employees than Chinese employees.

In Fiji, a Zhejiang-based private firm is now constructing a 30-storey landmark building in its capital city Suva, where the hotels, only including two five-star ones, are far out of supply since the city is home to secretariats of many regional cooperation organizations and headquarters of international organs in South Pacific region.

Designed, invested and developed by WG International Real Estate Company, the WG Friendship Plaza, with a floor area of 46,000 square meters, will be equipped with five-star hotels, offices and international convention centers.

"This will not only drive the return on investments through sales but also drive the local economy including the creation of local jobs," Parveen Bala, then Minister for Local Government, Housing, Environment, Infrastructure and Transport of Fiji said at the ground-breaking ceremony of the project.