By Wang Tian, Xing Xue, Zhang Guangzheng and Zhang Xiaodong from People's Daily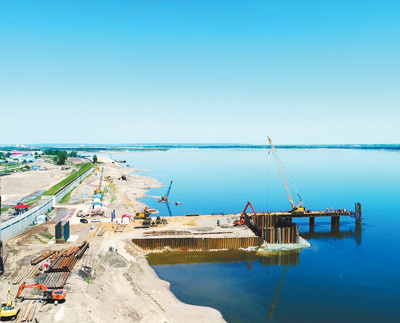 Photo taken on June 21 shows the construction site of a highway bridge connecting China and Russia over the Heilongjiang River. As the first cross-border road bridge linking the two countries, it is scheduled to open to traffic in October, 2019. (Photo by Wang Jianwei from Xinhua News Agency)
Chinese President Xi Jinping will kick off a state visit to Russia at the invitation of his Russian counterpart Vladimir Putin on July 3. It will be the third meeting between the two presidents in 2017. Analysts said that another handshake between the two heads of state will take bilateral ties to new high.

The frequent exchanges between the two leaders have not only resulted in far-sighted strategic guidance and top-level designs that help keep bilateral comprehensive strategic partnership of coordination at a high level, but also promoted bilateral coordination against the everchanging international vicissitudes.

The two countries, as a result, serve as a ballast stone in guarding global and regional peace and stability. It has been a consensus that China-Russia ties are standing at the best period in history. Both leaders have vowed to bolster cooperation on economy, trade and investment. Putin once stressed that Russian economy should sail by China's development.

Two-way trade between China and Russia stood at $69.53 billion in 2016, increasing 2.2 percent year on year. It was a growth achieved against the slow recovery of the world economy and the sluggish growth of global trade.

China has been Russia's largest trade partner for six years consecutively, and Russia is also one of China's major sources of imported energy and high-tech mechanical and electrical products.

The cross-border e-commerce is to boost bilateral trade. Russia has become a most attractive overseas market for Chinese e-commerce companies. Overseas e-commerce companies have sent a total of 233 million parcels to Russia in 2016, 90 percent of which came from China, according to Alexey Fedorov, president of Russian Association of Internet Trade Companies.

The "Belt and Road" initiative has created a larger common ground of interests for both countries in terms of strategic cooperation on cross-border infrastructure. Russia is both the supporter and important partner of the China-proposed initiative.

The two countries have hosted a series of state-level cultural events in recent years to beef up mutual understandings between the public.

The China-Russia Media Exchange Year, for instance, was launched in 2016, while Xi and Putin also attended the inauguration ceremony of a joint interview in border cities participated by mainstream media outlets from both countries.

China maintained its position as Russia's largest tourist source in 2016, with the number of tourists increasing 15 percent year on year to 1.073 million.

China National Tourism Administration would, from this June to September, organize a tourism event, in which 1,000 people will have a self-driving tour to Russia. In addition, China is one of destinations that see the largest growth in inbound tourists from Russia.

Besides, more and more Russian residents now begin learning Chinese. A total of 123 primary schools and about 200 universities offer Chinese courses that involve nearly 40,000 students. Data also showed that more than 70,000 students from both countries have been engaged in bilateral education exchange programs, and the target is to hit 100,000 by 2020.

In 2008 and 2009, 890 Chinese students from the quake-stricken Wenchuan in Sichuan Province participated in the summer camps at Russia's largest children's center located 50 kilometers away from Vladivostok.

Another 259 Chinese students from the earthquake stricken area Lushan visited the center in 2013, too. These traumatized Chinese students have built a sincere friendship with Russian teachers and children, leaving a beautiful story in the history of China-Russia people-to-people exchange.

China and Russia have established 26 pairs of sister states/provinces and 101 pairs of friendly cities. They have also set up medical university alliance and young entrepreneurs club, organizing exchange of visits between young politicians and students.