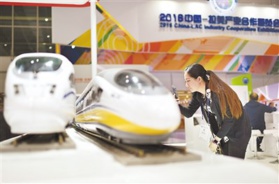 By Li Xuanmin Source: People's Daily and Global Times


Chinese President Xi Jinping's upcoming visit to Latin America, which will start on Thursday, has once again drawn the world's attention to closer economic ties between China and countries in the region.

In recent years, Chinese firms have invested billions of dollars into Latin America.

The most recent example is the $2 billion, 1,500 megawatt Coca Codo Sinclair hydroelectric station in Ecuador, which was awarded to State-owned PowerChina International Group in 2010.

The station began operating on Friday, according to a statement the company sent to the Global Times on Thursday.

When running at full capacity, the power station can meet close to 40 percent of the country's power demand, the statement said.

The hydropower station is one of dozens of projects that Chinese companies have funded in Latin America.

In Nicaragua, Hong Kong-based HKND Group is building a 278-kilometer canal that will connect the Caribbean Sea to the Pacific Ocean.

In Chile, State-owned China Harbour Engineering Co (CHEC) is constructing a port at San Antonio.

In general, Chinese investment has been flowing into two industries in the region - raw materials such as minerals and fossil fuels, as well as the infrastructure, which includes ports, railways and power plants, said Dong Jingsheng, vice director of Latin America Research Center at Peking University.

In 2015, China has already ­surpassed the US as the region's largest foreign investor and top destination for exports. China's direct foreign investment (FDI) in Latin America jumped 52.63 percent in 2015 to $29 billion, ­according to the Ministry of Commerce (MOFCOM).

Trade between China and the region also stands to gain. In 2014, the total volume of Chinese-Latin American trade soared to $263.5 billion, up 22-fold from 2000, according to the Xinhua News Agency in August.

At a forum in January 2015, ­President Xi Jinping vowed to increase China's investment in Latin America to $250 billion within a decade, Xinhua reported in January 2015. Xi also predicted that annual bilateral trade could hit $500 billion in a decade, according to Xinhua.

Delays and complications

However, it may take longer time to achieve the goal, experts warned. Chinese-funded projects in the region have not always proceeded smoothly.

The Coca Codo Sinclair hydroelectric power plant has run into extensive delays because drills got jammed during construction. The project was supposed to be finished in January 2014.

"The delay was mainly caused by an incomplete feasibility study prior to the project's start," Dong told the Global Times on Thursday. "Chinese contractors are unfamiliar with the region's complicated geography, which drove up costs and made it harder to control risks."

Stricter environmental standards are another issue that Chinese investors have to deal with.

"Almost all construction projects need to undergo an environmental assessment, and contractors are required to come up with clear measures to ­offset any potential impact," Jiang Wei, deputy manager of State-owned CHEC Americas Division, told the Global Times on Thursday.

"But Chinese firms are not experienced in handling environmental issues and corporate social responsibility requirements, which has resulted in conflicts with local interests," Jiang said.

For example, the investment contract for the copper mining concession in the province of Zamora-Chinchipe, Ecuador, which was signed by a joint venture formed by two Chinese State-owned enterprises and the Ecuadorian government in 2012, has received strong opposition from local communities mainly due to controversial environmental practices.

In addition, Chinese firms are more comfortable arranging state-to-state deals with guaranteed sovereign loans. The private investment model, like Public-Private Partnership, which is endorsed by a number of Latin American countries and involves project financing, construction and operation, are quite new to Chinese firms, according to the companies.

"What's worse is that the experienced western and local companies that came early to the region have already built a firm base there, leaving a small yet fiercely competitive market niche for their Chinese competitors," Jiang said.

On top of the disadvantages, some Chinese funding has also ended up in unstable political and economic scenarios, Jiang Shixue, deputy director of the Institute of Latin American Studies at the Chinese Academy of Social Sciences, told the Global Times on Thursday.

One example is the halt of construction of Chinese bullet trains in Venezuela after the country's oil-dependent economy was crushed by a collapse in global oil price.

China Railway Construction Corp's deal to build a $3.75 ­billion high-speed railway in Mexico was called off in 2015, partly due to power struggles between different parities in the country, media reports said.

Grasping opportunities

But clearly Latin American countries can use Chinese technology, capital and resources, especially at a time when they have struggled to secure loans from lenders such as the World Bank (WB) and the Inter-American Development Bank (IDB).

In 2015, the WB slashed lending to the region by 8 percent to $8 billion, while the IDB slashed its lending by 14 percent to $11.5 billion, according to data released by China's MOFCOM in February.

Unlike the international institutions, Chinese lenders offer indiscriminate, condition-free loans that are more flexible, Dong said. Some even offer options of commodity-for-loan deals. Against the backdrop, China has grown into an important source of development funds for cash-strapped Latin American countries.

Backed by two policy banks - China Development Bank and China Exim Bank, China offered loans of $29.1 ­billion in 2015 - more than the WB and the IDB combined, according to the Financial Times in February.

In the midst of sluggish global demand, resource-rich Latin American countries have strived to replace their export-driven economies to boost growth. The infrastructure sector, which "China has a strong advantage and an excess of installed capacity" is a suitable alternative, said Luo Sinan, the Commercial Counselor at the Embassy of Ecuador in China. Luo preferred to use his Chinese name.

The industrial and manufacturing sectors are also underdeveloped in many Latin American countries like Ecuador, and China's capital inflow into such sectors "is considered strategic to the change of the current production matrix," Luo told the Global Times on Sunday.

Also, Chinese firms are attracted by the region's abundant resources, its inexpensive and high-quality labor force for foreign investors, experts noted.

The business environment in Latin American countries like Peru, Colombia and Chile is open and transparent. In 2015, the three countries ranked among the top 50 according to the ease of doing business there, WB statistics show.

"The investment outlook for the region is bright," Dong said. "Chinese investors should also consider investing in sectors such as manufacturing and services, which are full of potential."