By Li Feng, Qu Xiangyu from People's Daily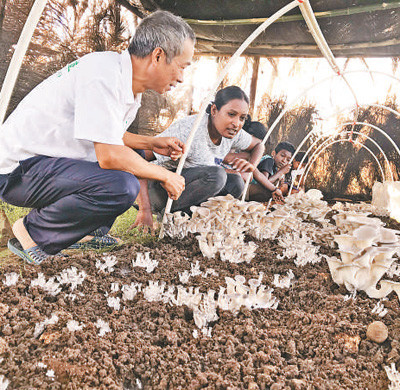 A Chinese expert teaches mushroom planting technology to Fijian farmers. Photo by Qu Xiangyu from People's Daily
Chinese President Xi Jinping, ahead of his state visit to Papua New Guinea (PNG), published a signed article on Wednesday titled "Set Sail on a New Voyage for Relations between China and Pacific Island Countries" on Post-Courier and The National, two newspapers.

"Eighteen years ago when I was Governor of China's Fujian Province, I personally pushed for a demonstration project to help the Eastern Highland Province of Papua New Guinea with mushroom and upland rice planting. I am glad to learn that this project, still in operation to this day, has produced good economic and social benefits for the local community and become a success story in the growth of China-Papua New Guinea relations," Xi wrote.

The president's words have drawn worldwide attention to Chinese Juncao technology (Jun means mushroom and Cao means grass).

Besides PNG, the Juncao technology is also prospering in other Pacific island countries. Former governor Peti Lafanama of PNG's Eastern Highlands Province told People's Daily that the Chinese mushroom and rice technology has pulled local people out of the threat of famine, and increased their incomes.

China launched the Juncao project in PNG in 2000. The Juncao technology was invented by Lin Zhanxi, a professor at China's Fujian Agriculture and Forestry University. It cultivates edible and medicinal mushroom from special wild grass so that trees need not to be cut for mushroom growing. It is conducive to sustainable agricultural development.
Considering the underdeveloped local economy, Lin and his team repeatedly simplified the technology so that farmers could learn fast and grow high-quality mushrooms.

Under the efforts of the Chinese technicians, Juncao technology was spread to 10 districts in three provinces of PNG. Juncao has become a very popular crop in the country thanks to its low cost and operability.

Under the help of Chinese experts, the Eastern Highland Province started growing rice for the first time in history. The Chinese experts also set two world records by developing a rice variety that can yield up to 8.5 tons per hectare, and a new planting technology that reaped 13 harvests in a year.

Farmers of the Pacific island countries, including Fiji, are becoming richer through planting Juncao, said professor Wu Shaofeng from an aided Juncao technology demonstration center in Fiji.

The crude protein content in mushroom grass equals to that in silage corn, Wu introduced. It is a favorite food of the herds that a hectare of mushroom grass can feed 30 cattle or 300 goats. As a result, the cattle and goat slaughter was substantively raised.

The aided Juncao center in Fiji, pushed by President Xi Jinping, is a technical assistance project jointly approved by leaders of the two countries. The aim for the project is to combine the traditional method of growing fungi on grass with the new mode of feeding livestock with mushroom grass through technical training and demonstration.

It will increase income for farmers in not only Fiji, but also other countries in the southern Pacific region. Additionally, the environment-friendly approach offers a new way to deal with climate change and helps achieve sustainable development.

So far, the project has trained 938 local people and sent 45 Fijian agriculture officials and technicians to Fujian Agriculture and Forestry University for study.

Currently, more than 600 Fijian households are growing Juncao and mushrooms, and relevant products have been sold at local bazaars, and to restaurants and hotels. Juncao technology has been promoted to research stations under the Fijian Ministry of Agriculture, as well as animal husbandry enterprises and local households, lowering death rate of livestock in dry seasons.

A Fijian farmer surnamed Boer started growing Juncao about three years ago. He said more Fijians are falling in love with mushrooms as the crop has been greatly popularized by the Juncao project and local agriculture associations. Boer said his monthly income keeps rising, and sometimes it could reach as high as 10,000 Fijian dollars, or 31,000 yuan.

China's Juncao technology has been promoted to 105 countries across the world since 1992. Thirteen countries, including Thailand, Malaysia, Fiji, PNG, South Africa, Rwanda, Lesotho and Eritrea have established demonstration and industry development bases of Juncao projects, which has greatly promoted economic and social progress, Lin introduced.