By Li Zhiwei, Zhu Dongjun from People's Daily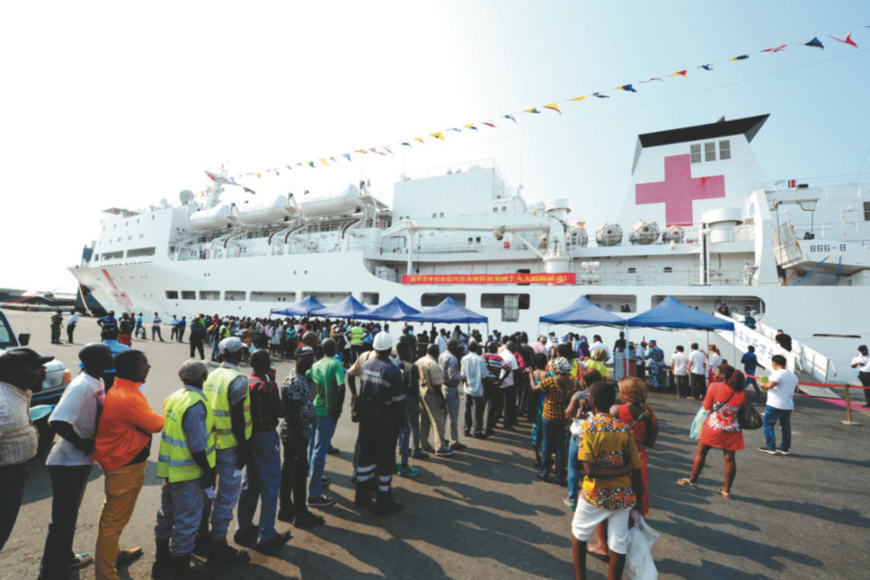 Local residents wait in line for medical treatment in front of the "Peace Ark" at the port of Luanda, Angola's capital, Oct. 22, 2017. (CFP photo by Jiang Shan)
After wrapping up a 155-day humanitarian visit to Africa, Chinese naval hospital ship Peace Ark arrived at a military port in Zhoushan, east China's Zhejiang province on Dec. 28, 2017.

It sailed nearly 30,000 nautical miles and provided medical services and humanitarian aid to Djibouti, Sierra Leone, Gabon, the Republic of Congo, Angola, Mozambique and Tanzania during the mission.

A lot of heartwarming stories happened during the trip's first trip to African countries.

One day in August 2017, the medical staff successfully separated the electricity-burned arm and chest for a Djiboutian boy after hours of surgery. That operation was the first one of the many in that evening.

The boy was happy about that, because the doctor said he could move his arms freely like a normal person after recovery. Peace Ark brought hope to the whole family, said the father of the boy.

In addition to onboard treatment, teams of doctors went to local hospitals, schools, communities, military camps and islands to assist with medical treatment, said the political commissar Jin Yi of the "Mission Harmony 2017.

On Nov. 9, 2017, a small medical and cultural exchange group was sent to a special education school in Maputo, Mozambique, to carry out health checks and treatment and donate medicines to local children.

Some doctors performed sign language dance for children with hearing impairment.

"We are thankful that Peace Ark brings health, happiness and more importantly hope to children," said the headmaster, adding that the children want to go to China for travel or study in future.

On September 21, 2017, the third day of the hospital ship's first-time arrival in Sierra Leone, and the annual International Day of Peace, a new life came to the world onboard.

At 22:08 local time, just 8 minutes after an onboard midwifery started, a 3-kilogram baby was successfully delivered. To remember the special date of birth and the hospital ship, the father of the baby, bathed in happiness, named the child "Peace."

Later, a warm ceremony was held on the Peace Ark to celebrate the birth of the baby. The onboard medical staffs sent children's wear and toy pandas to Peace as gifts, and a birth certificate to his parents.

This scene was a result of the hard work of the onboard medical staffs who raced against time.

It was the sixth newborn on the Peace Ark since it commissioned in 2008, said captain Guo Baofeng. Ernest Bai Koroma, President of Sierra Leone, extended his thanks to the Peace Ark, saying the baby Peace has brought new hope to the country.