People's Daily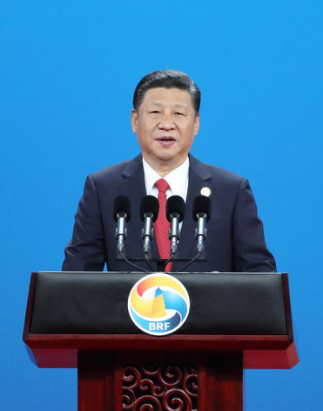 Chinese President Xi Jinping is delivering a keynote speech at the openning ceremony of the BRF on Sunday, May 14. Photo by Xihua News Agency
During the opening ceremony of the Belt and Road Forum for International Cooperation, President Xi Jinping made a keynote speech and received nearly 30 rounds of warm applause.

He reviewed the achievements made in the past four years and proposed plans for the future, including further support from China for the Belt and Road Initiative.

"Mr. Xi provided many wise solutions to major problems facing the international community," Nursultan Nazarbayev, President of Kazakhstan, hailed Xi's speech, echoing the thoughts of many other attendants. The applause not only showed respect for what the initiative has achieved, it also recognized the long-term value of Belt and Road Initiative.

The rise and fall of the ancient Silk Road provides several important lessons for humanity. Be it the ancient Crusades or the war-torn Middle East and North Africa, conflicts rarely bring peace and happiness. The "ocean" of the global economy will always exist. It goes against the tides of time to cut off the flow of capital, technology, products, industries or personnel, diverting that ocean into isolated lakes and rivers.
So where is humanity heading and what be the experiences of future generations?

"History is our best teacher," President Xi explained. By promoting the Belt and Road Initiative, China is attempting to preserve the precious legacy of human civilization from the ancient Silk Road. With peace, cooperation, openness, inclusion, mutual learning and benefits, the spirit of the Silk Road will transform the world into a peaceful, prosperous, open, innovative and civilized home for all.