By Wang Yunsong from People's Daily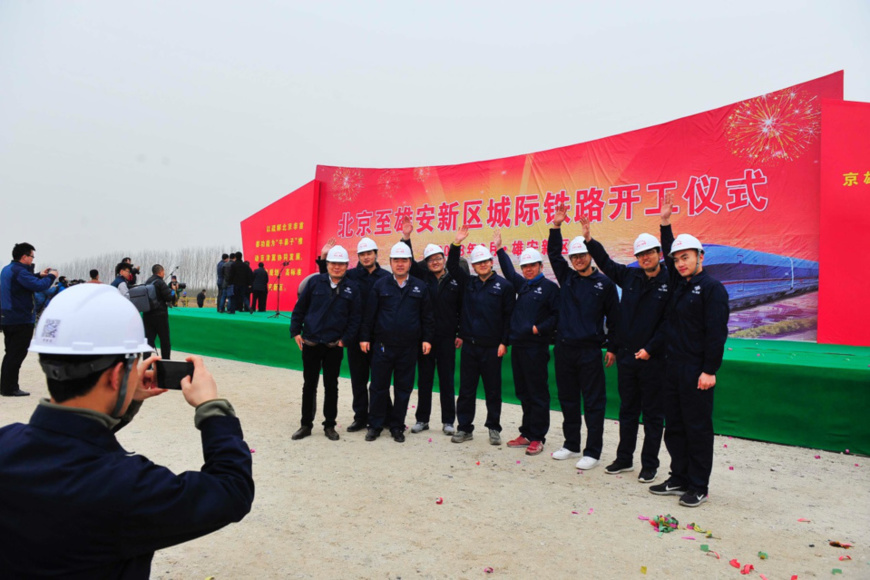 Photo taken is the ground-breaking ceremony of the inter-city railway between Beijing, capital of China, and Xiongan New Area. (Photo by People's Daily Online)
Construction on a rail link connecting the capital Beijing with Xiongan New Area, the new economic zone about 100 kilometers southwest of Beijing began on Wednesday, and the rail transit, upon completion, will shorten the travel time between the two places to 30 minutes.

As the first big transportation project involving Xiongan, the rail transit will stretch 92.4 km via Daxing district of Beijing and Bazhou city in northern Hebei province. With total investment expected to reach 33.53 billion yuan ($5.3 billion), the line will have five stops.

The section from downtown Beijing to the new airport has a designed speed of 250 km/h, and will be put into use together with the new airport in September 2019. The section from the airport to Xiongan has a designed speed of 350 km/h, and will be operational by the end of 2020.

The new line will be connected with other high-speed lines and terminals as well, such as the Beijing West Railway Station, the planned Xiongan-Shangqiu line, Tianjin–Qinhuangdao high-speed railway, Tianjin–Baoding intercity railway and Beijing–Guangzhou railway.

As a result, a transportation network encompassing Xiongan and other places in the Beijing-Tianjin-Hebei region, as well as other big cities across the country will take shape, which will give a boost to the coordinated growth of the Beijing-Tianjin-Hebei region.

This new progress also means that Xiongan has commenced its construction of major infrastructure, said construction director Yang Bin.

The rail linewill be the most convenient and efficient way to get from Xiongan to Beijing and the capital's new airport, Yang underlined, adding that in this way, it will greatly accelerate the pace of shifting non-capital functions from Beijing to Xiongan.

The Xiongan New Area was launched in April last year, as part of a state-driven blueprint to help phase out non-capital functions in Beijing and to advance the coordinated development of the Beijing-Tianjin-Hebei region.