LI YINGQI from People's Daily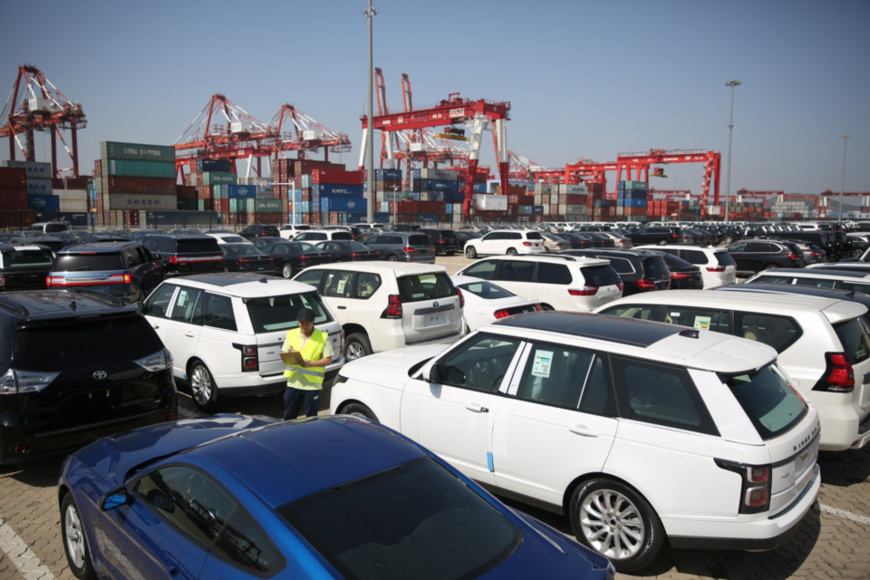 China will cut the import duty on passenger cars to 15 percent, almost 40% reduce, starting this July 1. Photo: staff at the Qingdao Qianwan Free Trade Port Zone check the imported vehicles. Source: People's Daily
China's opening up during the past decades has not only fulfilled its WTO entry commitments, but also provides the world with more investment opportunities, a white paper on China and the WTO released on Thursday.

After joining WTO in 2001, China has comprehensively honored its tariff reduction commitments by lowering the tariff rates, increasing its import catalogue, improving the tariff structure and investment Environment.

By 2010, China had fulfilled all of its goods trade tariff reduction commitments, reducing the average tariff level from 15.3 percent in 2001 to 9.8 percent in 2010. It has also lowered non-tariff trade barriers, widened market access and strengthened legal protection over the past years.

In the next five years, experts forecast that China will import 8 trillion U.S. dollars worth of goods from all over the world and attract overseas investment of 600 billion dollars. These will definitely provide plenty business opportunities for foreign company.

China has contributed significantly to the effective operation of the multilateral trading system, according to the white paper.

"China's 15 years of membership have been marked by increasing acceptance and engagement with multilateralism", said Dr Wim Muller from the International Law Programme of Chatham House. He said that China's WTO practice has shown that China can accept the jurisdiction of an international judicial body, accept its findings and embrace its procedures. "It has become an enthusiastic member of the WTO".

Titled "China and the World Trade Organization (WTO)", the white paper shows that China has made great efforts to review and revise relevant laws and regulations after joining the WTO, involving 2,300 laws, regulations and departmental rules at central government level, and 190,000 policies and regulations at sub-central government levels.

MS. Barshefsky, the trade representative under President Bill Clinton pointed out that "In the course of doing the WTO negotiation, China opened its market. The U.S. didn't alter its trade regime, nor did any other country alter its trade regime. As in any WTO negotiation, it is acceding country that needs to reform its economy." Over the past 17 years, China has made great efforts to improve its market environment, further align its policies with multilateral trade rules in all areas.

Meanwhile, as the world's largest developing country, China's join contributions to a more balanced trade system as has allowed developing nations more advantages in negotiations.

Late last year, China announced that plenty measures would be taken to raise foreign equity caps in the banking, securities and insurance industries. China will accelerate the opening-up of the insurance industry, and open up more areas for cooperation between Chinese and foreign financial markets. On multiple occasions, Chinese President Xi Jinping promised to further open up China to the world, "Over the last four decades, the Chinese people have embraced the world with open arms and actively contributed our share to the world".