By Wang Yuan from People's Daily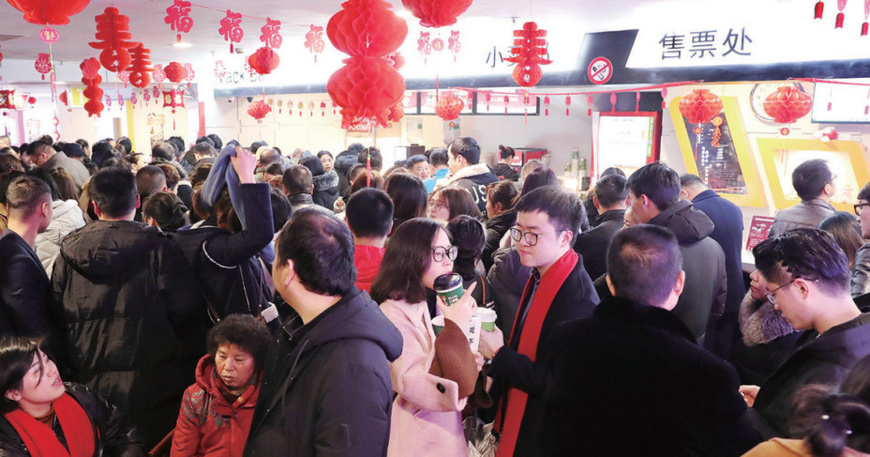 Cinemas in Deqing county, Huzhou of east China's Zhejiang province are always in full house during the 2018 Spring Festival holiday as more citizens chose to watch movies with their families. (Photo by dqnews.cn)
Residents in third- and fourth-tier Chinese cities are contributing more to the rise of national box office sales, according to the latest statistics released by the State Administration of Press, Publication, Radio, Film and Television of China.

During the country's Spring Festival vacation from Feb. 16 to 21, a total of 143 million moviegoers nationwide contributed 5.694 billion yuan ($897 million) to the box office sales. The figures represented growth of 68 and 60 percent, respectively, over the same period last year.

A major contributor of the box office is young generations who returned home in third- and fourth-tier cities from metropolises and took their families to theaters.

The box office sales in these cities surged over the recent years, as a result of the giant leaps made by China's film industry. It also signifies the cultural and recreational demands of young people in these cities.

Industry insiders explained that citizens in third- and fourth-tier, as well as smaller cities now have more spared time and power of consumption, allowing them to emerge as new backbone of the country's recreational consumption as well as new target of cultural and entertainment enterprises.

These third- and fourth-tier cities have bigger market potential than the first- and second-tier markets which have already become saturated after years of fast development, they added.

Statistics up to February 2018 showed that China is home to 9,914 cinemas with 53,824 big screens. The distribution of screens in major and smaller cities is moving toward a balance, as the latter see more of them in recent days.

Currently, the numbers of county-level cinemas and screens account for 49 percent and 38 percent, respectively, of the country's total. As a result, China's film market, which mainly stayed in big cities before, has been expanded to more regions.