By Wu Yan, Xie Yahong from People's Daily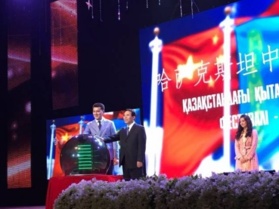 The music can work as a bridge that draws Chinese and Kazakh people closer, Kazakh singer Dimash Kudaibergen said after learning that he was mentioned by Chinese President Xi Jinping in a signed article he wrote before starting a state visit to Kazakhstan.

Xi said Dimash is now a household name in China in the article published on Kazakh newspaper Aikyn Gazeti under the title "May China-Kazakhstan Relationship Fly High Toward Our Shared Aspirations".

Widely known in his country and followed by a large number of Chinese fans, the 23-year-old singer thinks it is unbelievable that Xi, a leader of a great country with such a big population has noticed and remembered a foreigner like him.

Dimash rose to fame in January when he first took part in Singer, a Chinese TV program. His high-pitched voice and handsome appearance brought him instant fame in China and he now has more than 6 million followers on Weibo, or micro blog. That number is one third of the total population of Kazakhstan.

His current popularity in China is an outcome of the increasingly frequent cultural exchanges between China and Kazakhstan. Both countries maintain a close interaction, which can be evident by economic and trade ties, cultural exchanges, government relations and people-to-people bonds.

Dimash, a pride of the Kazakhs appreciated by the Chinese people, has helped to cement people-to-people relations between China and Kazakhstan. Because of him, more Kazakhs get to know about Chinese musicians and the Chinese people.

Dimash's father Kanat Aitbayev said he takes pride in his son for making contributions to bringing the young people and the public of the two countries closer to each other by music and cultural exchange.

As a young man gaining wide fame and praised by leader of a country because of his songs, Dimash pledged to stay true to his profession by performing great songs to elevate bilateral cultural and people-to-people ties.

Dimash vowed to both introduce Chinese culture to Kazakhstan and let more Chinese people understand the Kazakhs, who are warmhearted, united and friendly.

"I hope beautiful music and my efforts will serve as an invisible bridge to connect and integrate the two cultures and bring two peoples closer," the young singer said to People's Daily.