By Li Yingqi from People's Daily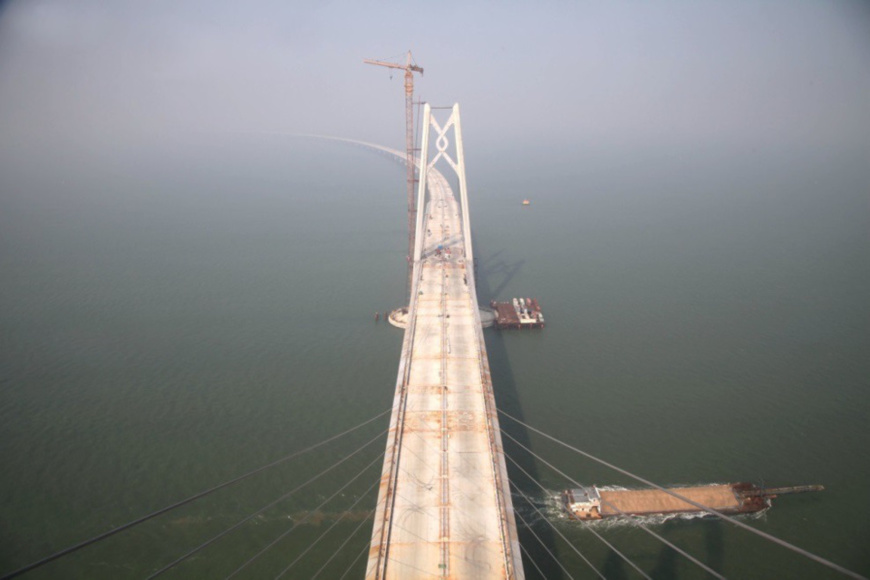 Decks of the Hong Kong-Zhuhai-Macao Bridge were linked together on September 27, 2016, indicating the main construction of the bridge entered into the final phase. Connecting Hong Kong with Macao and Zhuhai, the world's largest sea-crossing span consists of a series of bridges and one undersea tunnel, as well as 3 artificial islands. (Photo by Ji Shunli from People's Daily Online)
A national-level development plan for the Guangdong-Hong Kong-Macao Greater Bay Area will be unveiled soon, putting infrastructure interconnectivity on top of the agenda, Ma Xingrui, governor of southern China's Guangdong province disclosed at a panel discussion during the ongoing first session of the 13th National People's Congress (NPC) on March 6.

The Guangzhou-Shenzhen-Hong Kong Express Rail Link, a key part of the transport network in the area, is scheduled to open in the third quarter of 2018. It will slash the travel time between Guangzhou and Hong Kong to 48 minutes and between Shenzhen and Hong Kong to 14 minutes.

The main construction of the Hong Kong-Zhuhai-Macao Bridge has been completed. The bridge will cut the travel time between Hong Kong and Zhuhai from four hours to just 30 minutes.

The sea tunnel linking Shenzhen, Dongguan, Huizhou, Zhuhai, Zhongshan and Jiangmen is under accelerated construction, and the Humen Bridge II connecting Guangzhou and Dongguan will open to traffic in 2019.

The Guangdong-Hong Kong-Macao Greater Bay Area is a cluster of cities, including Hong Kong, Macao, Guangzhou, Shenzhen, Zhuhai, Foshan, Zhongshan, Dongguan, Zhaoqing, Huizhou and Jiangmen. It is the fourth largest bay area in the world after the metropolitan area in New York, San Francisco Bay Area and the metropolitan area in Tokyo.

A report by PricewaterhouseCoopers shows that the economic aggregate of the Guangdong-Hong Kong-Macao area is comparable with that of Canada, the 10th largest economy in the world.

With a total population of 120 million, it is home to many advantageous industries and competitive companies that stand out in domestic and global market. The finance, science and technology sectors in the cluster also stand in the front row.

The Guangdong-Hong Kong-Macao Greater Bay Area is one of China's regions that are called for coordinated development. Others include the Beijing-Tianjin-Hebei area and the Yangtze Economic Belt.