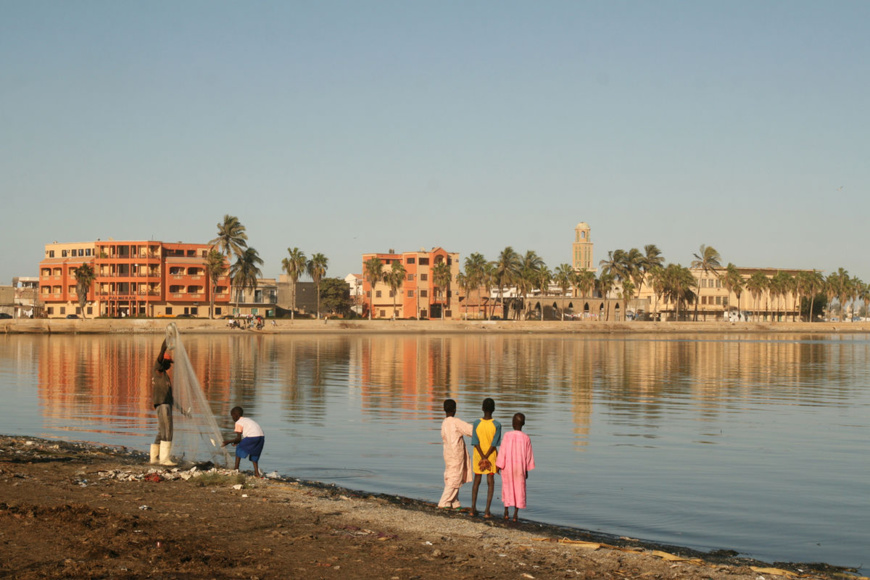 Saint-Louis au Sénégal. Crédits photo : DR/Wikipédia
WASHINGTON, June 7, 2018 - The World Bank today approved an International Development Association (IDA)* credit of $30 million (24,4 million 'Euros) to give direct support to 927 households of nearly 10,000 people in the city of Saint Louis who have already been displaced by coastal erosion or amongst the most vulnerable people currently living within the 20-meter zone considered at very high-risk of flooding.
"The Saint Louis Emergency Recovery and Resilience Project shows Senegal's commitment to dealing with the effects of climate change. It is the first project resettling populations affected by rising sea water, and is going to set the stage for how Senegal deals with the problem," 
said 
Louise Cord, World Bank Country Director for Senegal.
This approval follows a call for international assistance to address the city's coastal erosion, made by the Mayor of Saint-Louis at the One Planet Summit in December 2017 in Paris.  
"In recent years we have seen more frequent and intense storm surges. All along the coast, we can see the devastating impacts of erosion with destroyed houses and infrastructure. It is necessary to take urgent action to preserve the Langue de Barbarie so that it can continue with its protective function for the entire city,"
 said 
Amadou Mansour Faye, Mayor of Saint Louis and Senegal's Minister of Hydraulics and Sanitation.
On February 3, 2018, President Macky Sall of Senegal visited the city of Saint Louis, along with President Macron of France and World Bank Group President Jim Yong Kim. The visit became the turning point that accelerated the response.   
The project, known by its acronym SERRP, will help to reduce the population's vulnerability to coastal hazards along the Langue de Barbarie, and strengthen the urban and coastal resilience planning of Saint Louis, a city registered as a World Heritage Site by UNESCO.  
The five-year project has adopted an inclusive, participatory approach to plans for the relocation of the affected communities by ensuring the active involvement of local communities throughout the project cycle. This will strengthen existing community networks, promote the sense of ownership and solidarity within communities, and provide an opportunity to build overall community resilience to future disaster risks and climate change.  
* The World Bank's 
International Development Association (IDA)
, established in 1960, helps the world's poorest countries by providing grants and low to zero-interest loans for projects and programs that boost economic growth, reduce poverty, and improve poor people's lives. IDA is one of the largest sources of assistance for the world's 75 poorest countries, 39 of which are in Africa. Resources from IDA bring positive change to the 1.5 billion people who live in IDA countries. Since 1960, IDA has supported development work in 113 countries. Annual commitments have averaged about $18 billion over the last three years, with about 54 percent going to Africa.