By Meng Xianglin from People's Daily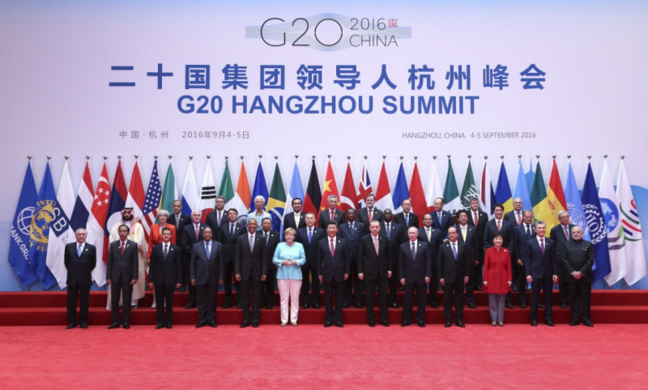 Chinese President Xi Jinping urged the G20 members to work with real intent instead of just making empty promises as he offered gave China's remedies for future development of the group. Experts praised the president's prescription, advising the G20 to implement the proposals by transforming and innovating its cooperation mechanisms.

As Xi addressed the opening session of the Hangzhou summit on Sunday, he said that that it was time for the G20 to be a "group of action," not just a talking shop, as he called on the G20 to drive global economic growth by fully honoring its commitments and implementing each and every plan.

The G20 Summit was created in response to the 2008 global financial crisis, and the crisis in turn consolidated the mechanism's status as the premier forum for international economic discussions.

However, while this type of forum-oriented mechanism usually gives effective prescription on crisis response, it lacks a concrete agenda in a post-crisis era. In recent years, negative voices have described the G20 as "talking shop," some even claiming that the mechanism risks becoming marginalized.

Zhu Jiejin, professor from Shanghai-based Fudan University, told the People's Daily that crisis-response brought fame to the G20, but at the same time posed challenges to its sustained development. The communiqué the G20 released when it was established also described itself as an unofficial mechanism of a crisis-response forum.

As the crisis has come to an end, the G20 now has difficulties in transforming itself from a crisis-response mechanism into that which can have a long-lasting governance agenda, the scholar said, advising that it has to change its empty agendas and improve its poor implementation.

Sheng Bin, Professor of the Institute of International Economics at Nankai University, suggested that Xi's proposals of taking action mean that the G20 now has to transform and innovate its cooperation mechanisms.

In the short-term, with increasing downward pressure and potential risks, global economic growth is now fragile. This moment is right for G20 members to turn the tide with more policy coordination, concrete actions and concerted efforts, Sheng said.

In the long-run, facing challenges in transforming from a crisis-response mechanism into a long-acting governance one, the G20 must create new public goods and policy dividends by making institutional arrangements for a series of key agendas in global governance.

Zhu suggested that to transform the mechanism, medium- to long-term agendas should be selected, citing the "G20 Blueprint on Innovative Growth," the "Action Plan on 2030 Agenda for Sustainable Development" as well as the "G20 Strategy for Global Trade Growth" as good examples.

The G20 should also reinforce interactions with established organizations, he said, adding that a measurable performance index system should be completed to urge members to implement their pledges.

China also proposed an index system to supervise the implementation of the agendas related to structural reform, and such measures can improve the transparency of the fulfillment and press those laggards in actions, Zhu said.

Sheng believes that to be a group of action, the G20 should set up a forceful executive body to ensure the sustainability and effectiveness of the working agendas. It also needs to further cooperate with other economic organizations or forums to translate political willingness into concrete action plans.

New action mechanisms and models should also be explored, he stressed. G20 members can also realize collective actions by using opportunities created by initiatives of individual countries, he pointed out, saying that the "Belt and Road" initiative put forward by China as an emerging economy is such a contribution.

The G20 also needs to obtain intellectual support for action plans, policies and solutions through extensive and in-depth cooperation with business circles and think-tanks, the professor noted.