By Zhu Dongjun from People's Daily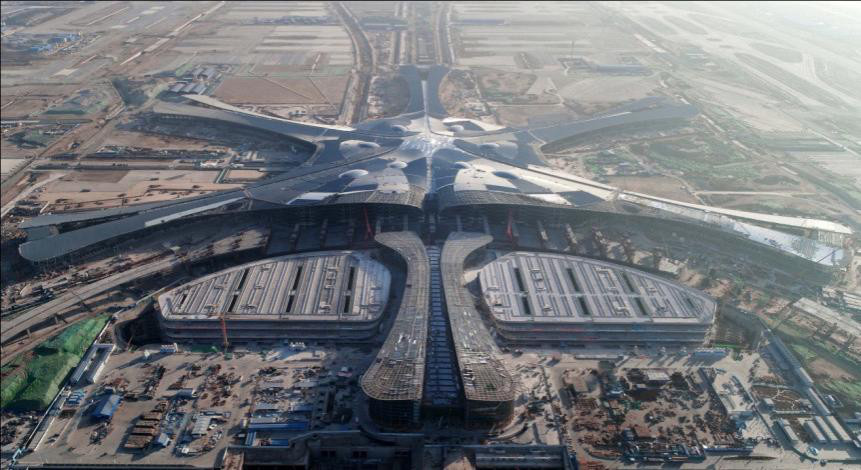 Photo taken shows Beijing's new airport under construction. (Photo by Lei Sheng from People's Daily)
A seventh ring road will be completed at the end of June and is expected to further integrate Beijing and neighboring Hebei Province.

The ring-shaped road will have a total length of 940 kilometers, including 90 kilometers in Beijing and 850 kilometers, or 90 percent, in Hebei.

Beijing has no first ring road. As Beijing's sixth orbital, the new one will help ease the freight transport burden on the sixth ring road.

More importantly, it will propel the integration of the highway network of the Beijing-Tianjin-Hebei region, advance formation of an one-hour and half-hour commutes between central cities and peripheral cities in the region.

Having 2.3 percent of the country's land area and 8 percent of the national population, the Beijing-Tianjin-Hebei region is one of the most vigorous economic zones in the country. In 2016, the region contributed 10 percent to the country's GDP.

Uneven development has constrained the region's growth. Beijing is confronted with "big city diseases" including a water shortage and overpopulation approaching the ceiling set by the government. Compared to Beijing and Tianjin, the small and medium-sized cities around Beijing and Tianjin lag behind economically.

Coordinated development for Beijing-Tianjin-Hebei Region is planned by authorities to address the challenges, with construction of transport facilities one of the important tasks in realizing that goal.

According to the development roadmap, the region will build a world-class city cluster with Beijing at the core by improving the road transportation network, building modern airport and port clusters, optimizing transportation capacity and accelerating modernization of transport services.