By Shan Xin from People's Daily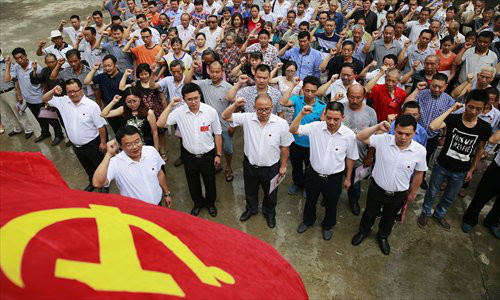 Communist Party of China members review their vows of joining the Party in Hongyan township, Sichuan Province, June 21. Photo: IC
The Communist Party of China (CPC) keeps growing in strength as its membership increased by 117,000 to 89.564 million in 2017 and primary-level party organizations rose to 4.572 million, up 53,000 compared to last year, the Organization Department of the CPC Central Committee announced Saturday.

Membership has grown steadily improving quality as well. The growth rate was limited to 1.5 percent since 2013 when the Party implemented an enrolment rule which emphasised quality over quantity.

In 2017, the CPC enrolled 1.982 million new members, 71,000 more than in 2016, including 1 million members working in frontline production roles, accounting for 50.8 percent of new intake.

Among the new members, 860,000 held junior college degrees or above, accounting for 43.4 percent, with 1.613 million aged 35 or younger, which is 81.4 percent of all new members in 2017, the communique said.

The Party had 23.888 million women at the end 2017, accounting for 26.7 percent of the total membership, while 6.514 million are from ethnic minority groups, making up 7.3 percent of the total.