By Li Feng from People's Daily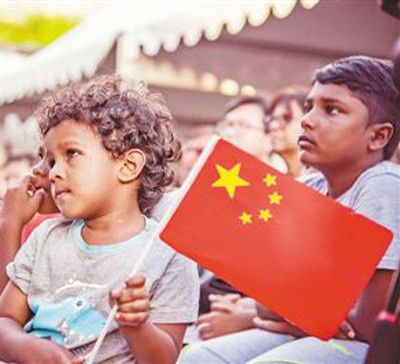 Mauritian children are watching a Chinese show. (File photo)
The five-star red flags are now waving on the streets of Mauritius, an island nation in the Indian Ocean about 2,000 kilometers off the southeast coast of the African continent, to welcome Chinese President Xi Jinping's friendly visit during a stopover.

"Mauritius is a small island nation, while China is one of the most important players in the world. President Xi's visit will attract more world's attention to my country, and will definitely bring surprises to us," said Jonas, a teacher with the University of Mauritius.

Known for its picturesque scenery, Mauritius is among the few African nations whose GDP per capita can exceed $10,000. The safe environment, complete law and financial system, as well as harmonious coexistence of diversified races and cultures have made the country a glittering pearl on the Indian Ocean.

The elements of Chinese culture resounds in the country even though the population of Chinese living there is less than 20,000. A Chinatown, with decorated archway in antique flavour and rows of shops, stands in the busy downtown area of Port Louis, the capital city of Mauritius to brace for bustling visitors every day.

Signboards in Chinese stand on streets or beaches, and many locals would say hello in mandarin to Chinese people, which is a vivid reflection of Mauritians' amity towards Chinese people.

Over the years, Chinese enterprises have been playing an active part in efforts of Mauritius to construct airports, highways, bridges and water conservancy facilities.

The Jinfei Economic, Trade & Cooperation Zone, invested and built by China, is on its way to be a smart city of Mauritius that bridges China-Africa cooperation and serves as an overseas cultural and tourism base.

China Road and Bridge Corporation, relying on its primary business, also actively engaged in environment treatment, photovoltaics, sewage disposal, garbage processing and other projects to improve locals' livelihood, paving new fields for "Belt and Road" construction.

The black tea developed by Chinese business has lifted the tea industry of the island nation out of plight by pushing them to global stage. The tea is now often chosen by Mauritian government as official gifts to a foreign guest.

Mauritian officials and scholars told the People's Daily that the Mauritian government will persist in its friendly policy towards China, one of the first countries that established a diplomatic relationship with Mauritius.

Describing China as a reliable cooperative partner in the oriental world, Mauritian Prime Minister Pravind Kumar Jugnauth said that his country respects the Belt and Road Initiative as it represents the development direction of economic globalization and open world economy.

The two countries have inked a memorandum on establishment of free trade zone, and their economic and trade ties will embrace leapfrog growth once the agreement is finally reached.

"Good friends feel close to each other even when they are thousands of miles away." reads a Chinese poem. In 2013, Xi set sincerity, practical results, affinity and good faith as China's policy principle when developing ties with Africa.

As good friends, brothers and partners of Africa, China is glad to see the latter's rapid development and progress, and also ready to lend a helping hand as much as it can.

The year of 2018, which marks the 50th anniversary of Independence of Mauritius, will be of milestone significance in China-Mauritius ties. Mauritians believe that Xi's trip will usher bilateral friendship into a new chapter in the new era.