By Guan Kejiang from People's Daily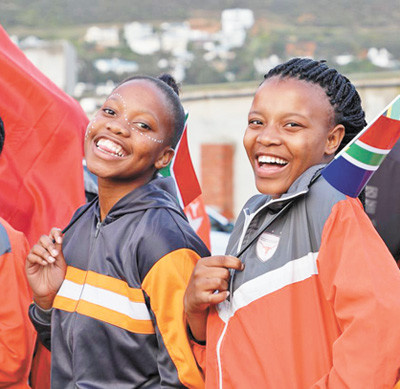 Students in Cape Town, South Africa welcome the visiting Chinese naval escort fleet. (By Li Yingyan from People's Daily)
Chinese and South African national flags are waving in the avenue in front of the presidential residence in Pretoria, administrative capital of South Africa, to welcome Chinese President Xi Jinping's state visit to the southernmost country on the African continent.

Hector Chekayro is a South African young man who makes a living by taking photos for tourists on the avenue. Charging 20 Rands for one photo, he secured a pretty good business in high seasons.

As a photographer who has served many Chinese visitors in his five-year-long career, the young man often greets Chinese tourists in simple mandarin like "good friends" and "good brothers".

"Chinese tourists are the largest group here, and I like them. They are friendly and nice," Chekayro said.

His love for China was arisen after reading an English book about China presented by a tourist as gift. He would search for information about China online whenever he can, which has made him a "China hand" among his peers.

"Though I've never been to China, I'm very familiar with Beijing and Shanghai," he said, introducing that China is home to the Great Wall, and produces martial arts movies. He also knows the international tourist destination Hainan island.

"I read news a lot, and I learn that Chinese President Xi Jinping is about to visit my country," the young man added.

He said his love for China not only comes from China's beautiful scenery, but also the Chinese enterprises who invest in South Africa and boost local development, which is also an epitome of the sincerity of the Chinese people.

"China used to be a poor country, but has grown all the way into a major economy. Africans have dreams, too, and they are hoping for national development and better livelihood. So we must make friends with China and learn from it," Chekayro told People's Daily.

Interestingly, Chekayro is not the only photographer on the avenue that can speak Chinese as one of his fellowmen Chelima also showed his Chinese by saying "Hello, President Xi! Hello, China".

As a Chinese saying goes, "Friendship, which derives from close contact between the people, holds the key to sound state-to-state relations." The friendship between Chinese and South African people has been well illustrated by the stories of Chekayro and Chelima.

Cultural exchanges between the two countries have been increasingly diversified in recent years, injecting energy to a deepened bilateral comprehensive strategic partnership.

So far, Chinese language has been incorporated into South Africa's national education system. In addition, the two countries have established the first high-level cultural exchange mechanism between China and Africa, and held the first South African year and Chinese year in each other's country for the first time.

Besides, South Africa hosts the largest number of Chinese tourists in Africa and has the most number of sister cities and provinces in China among African countries. What's more, it receives the most overseas Chinese and Chinese students in Africa, and is home to the largest number of Confucius institutes and classes on the African continent.

With Xi's third state visit to South Africa, it is expected that the friendship between the two countries can get closer and be carried forward for generations.