By Lu Yanan, Du Yifei from People's Daily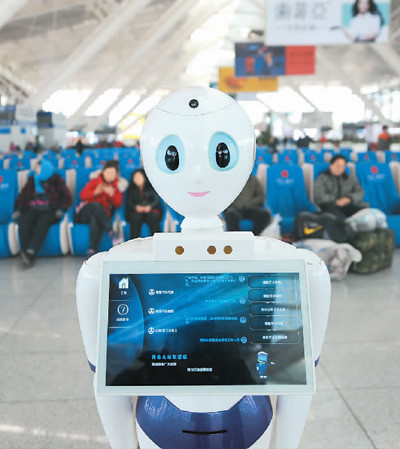 A robot serves at Qingdao North Railway Station during the Spring Festival travel rush on Feb. 3, 2018. (Photo by CFP)
China's economy has seen a good beginning this year, and it has conditions to achieve a yearly growth of around 6.5 percent, a bureau spokesperson told a press conference held by the State Council Information Office on Wednesday.

Mao Shengyong, spokesperson of National Bureau of Statistics (NBS) made the judgment based on the recently released economic data for the first two months.

Consumption upgrading remains a leading driver of economic growth, according to him, elaborating that the total retail sales of consumer goods registered a 9.7-percent year-on-year growth in January and February, an increase of 0.2 percentage points compared with the same period of last year.

Cars contributed a lot to the retail growth, showed the statistics. The growth in car sector not came from a significant rise in sales, but from an increase of unit price, indicating a shift in the demand and the optimization of consumption structure, Mao said.

Online retail sales grew by over 37 percent, 5.4 percentage points more than the same period of last year, giving a boost to the integrated growth of both online and offline sales.

New drivers such as the equipment manufacturing and high-tech industry maintained a considerable growth, with growth of industrial robots exceeding over 25 percent and new energy cars witnessing a 178 percent rise.

The first two months have laid foundation for high-quality economic growth, according to the official data.

Unemployment rate in urban areas was lower than 5 percent, a small drop compared with both the previous months and the same period of last year. Exports maintained a high growth of 18 percent year-on-year rate.

In addition to the economic achievements, China saw great improvement in ecological environment. A total of 338 cities at the prefecture level and above had 68.6 percent days with good air quality in January, an increase of 8.6 percentage points than the same period of last year.

The days of good air quality in Beijing made up 80.6 percent for the whole month, which is 29 percentage points higher than January 2017.

The report on the work of the government has set the target of GDP growth for 2018 at around 6.5 percent. In the latest ten quarters, the country has kept its GDP growth between 6.7 and 6.9 percent, preparing conditions for achieving the economic growth target this year, Mao concluded.