By Peng Min from People's Daily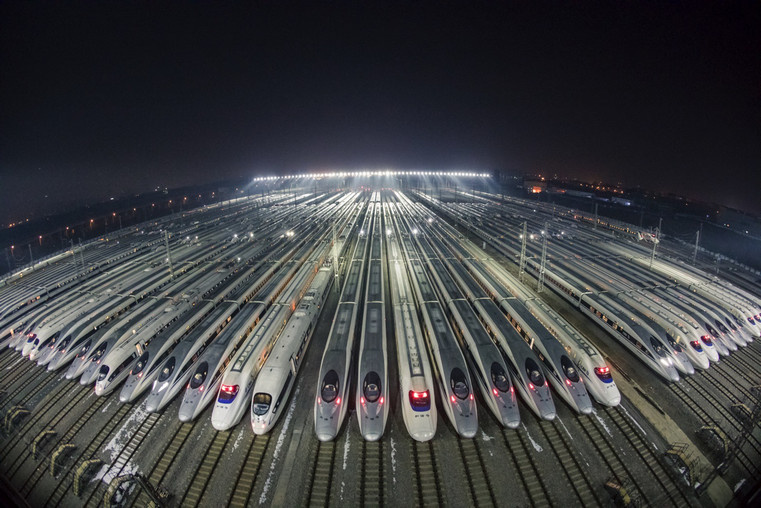 Bullet trains ready to set off in Wuhan, central China's Hubei province. (Photo from People's Daily Online)
China, whose GDP expanded 6.9 percent from a year ago to 82.7 trillion yuan ($12.8 trillion) in 2017, remains an important growth engine for the world's economic recovery, data released by the National Bureau of Statistics (NBS) on Wednesday indicated.

Data showed that in the past year, China's economy made up around 15 percent of the world total, and contributed about 30 percent to global economic growth, cementing the country's position as world's second largest economy.

China's foreign trade, according to the released statistics, stood at 27.8 trillion yuan in 2017, which is believed having a possibility to back to the world's top seat. Foreign exchange reserves, the world's largest, climbed to $3.14 trillion at the end of 2017.

Moreover, the employment rate of the country kept rising, with the registered unemployment rate in urban areas standing at a low point of 3.9 percent at the year-end. The annual grain output has been kept at over 600 million tons for five consecutive years.

In 2017, Chinese residents' per capita disposable income and consumption expenditure saw a year-on-year rise of 9.0 percent and 7.1 percent respectively, data showed.

In addition, the length of rebuilt expressways, newly-built high-speed railways and optical cable lines in China reached 6,796 km, 2,182 km and 7.05 million km respectively, making the world's second largest economy home to largest network of expressways, high-speed rails and mobile broadband in the world.