By Ji Peijuan from People's Daily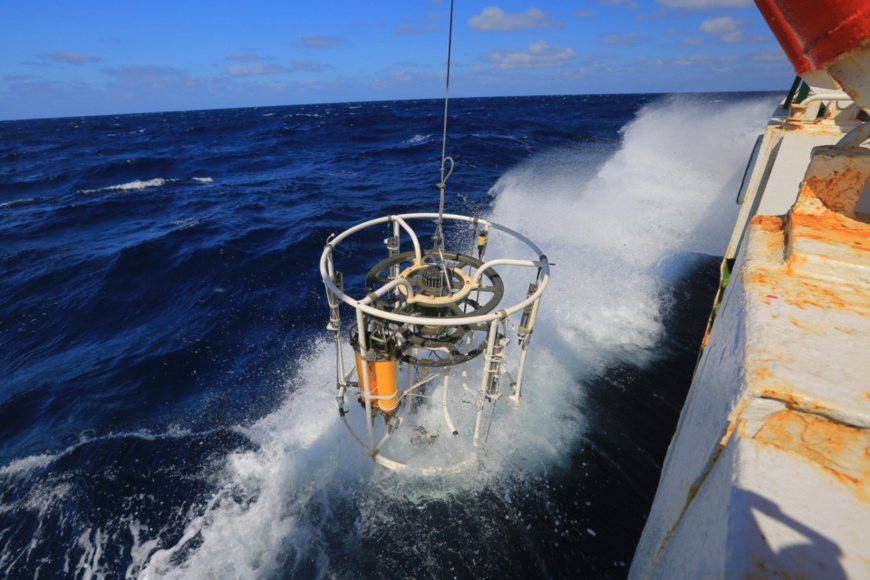 Chinese scientists measure the conductivity, temperature and depth of the ocean with a CTD (Conductivity, Temperature, and Depth) device. (File photo from People's Daily)
China has seen its gross oceanic product exceed 7.76 trillion yuan (about $1.22 trillion) in 2017, a 6.9 percent year-on-year increase, the State Oceanic Administration (SOA) announced on March 1 in Beijing. Maritime science and technology is a propeller behind the growth.

The gross product value generated by China's marine industry accounted for 9.4 percent of the country's GDP that very year, the SOA said in the newly released statistical bulletin.

Gross oceanic product, the abbreviation of gross oceanic economic product, refers to the final output of maritime economic activities of permanent residential units in coastal areas calculated by market price in a certain period. It is the sum of added value of maritime and its related industries.

China's maritime and ocean industries maintained steady growth in 2017, with added value of major maritime industries amounting to 3.17 trillion yuan, up 8.5 percent over the previous year.

The added value of maritime scientific research, education, management and services stood at 1.65 trillion yuan, up 11.1 percent on a year-on-year basis.

The development of maritime science and technology in China has provided a surging momentum for the development of maritime economy.

For instance, initial results have been yielded from "Transparent Ocean", a science and technology innovation project with the aim of clear observation, overall research and accurate forecast of the target sea area launched four years ago.

Through the project, China built the world's first comprehensive observation network of Mariana Trench, and successfully retrieved the world's first submersible buoy at a depth of over 10,000 meters, the Information Office of Shandong Provincial People's Government said in a recent press conference.

The project aims to acquire comprehensive information on the maritime environment, establish a forecasting system and grasp the changes in the maritime environment through establishment of a three-dimensional maritime observation system.

The project was carried out by eastern China's Shandong province, a province with a coastline of about 3,000 kilometers.

The innovation project provides a scientific basis for rational and orderly development of marine aquaculture and offshore fishing, offering timely information of marine environment and climate, said an official with the marine science and technology division under the Department of Science and Technology of Shandong province.

It guarantees operation safety of port transportation, maritime fishing and offshore oil and gas exploitation, the official added.

Through comprehensive utilization of information on marine resources and environment, the project can also make predictions on the prospects of marine economy, the official further introduced.

In addition, the project will generate new technologies and drive industrial transformation and upgrading of the province in the fields of ocean observation, marine engineering equipment, and offshore development of oil and gas resources, the official noted.