By Xu Peiyu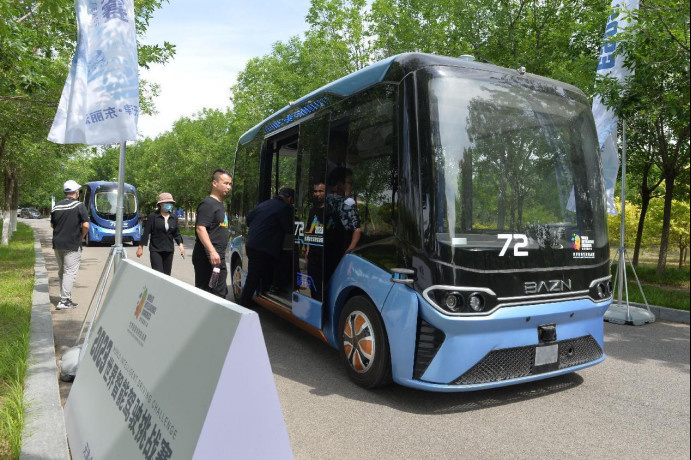 Citizens take autopilot buses in north China's Tianjin municipality. (Photo by Zhou Wei/People's Daily Online)
Thanks to the rapid development of the new generation of information technologies, vehicles are getting more and more intelligent in China.

The country is witnessing bourgeoning intelligent connected vehicles and the internet of vehicles industry. Urban traffic management has been improved, which brings better traveling experiences to passengers.

Internet of vehicles is an interconnection function accessing the network for in-vehicle devices through wireless communication technology. With the internet of vehicles, dynamic information about vehicles can be uploaded to online platforms and then provided various services when running on the roads.
It is mainly applied in pilot assist, autopilot, and intelligent traffic management.

The internet of vehicles can effectively improve people's traveling experiences. An executive of Chinese carmaker BYD told People's Daily that the company's internet of vehicles products today feature all-scenario applications.

Before getting into a BYD vehicle, the owner can remotely unlock the car, control the air conditioning, disinfect the interior, and check the status of the vehicle on a mobile application. BYD vehicles come with rich pilot assist functions that make driving easier under multiple scenarios, and offer various entertainment services when they are parked.

Besides, users can lock the vehicles on mobile phones and check vehicle information anytime and anywhere after leaving the cars.

Autopilot has constantly expanded its application scenarios, which not only facilitates the daily life of people, but also improves traffic efficiency. Today, many express parcel delivery vehicles, street sweepers and sightseeing buses are unmanned, running on both enclosed roads in parks and open streets in cities.

It is also employed by container trucks in port areas. For instance, containers at a terminal in the Taicang port in east China's Jiangsu province, after being lifted by automatic quay cranes, are carried by autopilot container trucks to their destinations along the driving routes measured by the system.

The intelligent transportation system enabled by the internet of vehicles is forcefully driving the construction of smart cities. Jiangsu's Wuxi city has built a national comprehensive testing center for intelligent traffic, which, based on traffic management data collected by the police, reminds drivers of vehicle illegal processing, urban roadblock information, as well as safety and emergency warning.

In Suzhou of Jiangsu province, passengers getting off high-speed trains can board autopilot buses immediately after exiting the train station, or order unmanned taxis on mobile applications.

According to statistics released by the Ministry of Industry and Information Technology (MIIT), 7 million intelligent connected vehicles with pilot assist systems were sold in China last year, up 45.6 percent year-on-year. During the same period, 48 percent of new energy vehicles in the country were equipped with pilot assist systems.

The Chinese market of intelligent vehicles may hit nearly 1 trillion yuan ($138.65 billion) by 2025, said a white paper issued by the China Academy of Information and Communication Technology.

In April this year, the MIIT announced to build national pilot zones of the internet of vehicles in Xiangyang of central China's Hubei province, Deqing of east China's Zhejiang province and Liuzhou of south China's Guangxi Zhuang autonomous region. So far, China has approved seven such pilot zones, including the previously unveiled ones in Jiangsu, Tianjin, Hunan and Chongqing.

The internet of vehicles system in the pilot zone of Wuxi is able to alert drivers to puddles and ice on roads with situation awareness technology and vehicle-mounted sensors, which improves traffic safety. In Wuxi's high-tech district, two routes have been designated for autopilot logistics, which benefit major enterprises and are connected to local unmanned factories.

The pilot zone in Tianjin, a municipality with a well-built industrial chain of the automobile sector, has taken the lead to establish a service system for the development of the internet of vehicles and explore the commercial application modes. It has grown into a world-class pilot zone that combines R&D, testing and commercialization of the internet of vehicles.

The national pilot zones of the internet of vehicles have been expanded, releasing a signal of China's accelerated layout of development of the internet of vehicles and the intelligent connected vehicle industry, said Feng Yi, director of the China Automotive Technology and Research Center.

"As an emerging business form, the internet of vehicles has become an important engine driving the high-quality development of the automobile industry," Feng added.

Deputy head of the MIIT Xin Guobin said that China has, to date, designated over 15,000 km of roads for testing intelligent connected vehicles, and is also expanding the use of driverless taxis and buses, autonomous valet parking, and unmanned delivery vehicles.

Besides, over 7,000 km of roads have been updated for intelligent connected vehicles with over 7,000 sets of roadside equipment in China's 17 national-level demonstration bases to test intelligent connected vehicles, 16 pilot cities for the coordinated development of smart city infrastructure and intelligent connected vehicles and seven national pilot zones of internet of vehicles.