By Du Yifei from People' Daily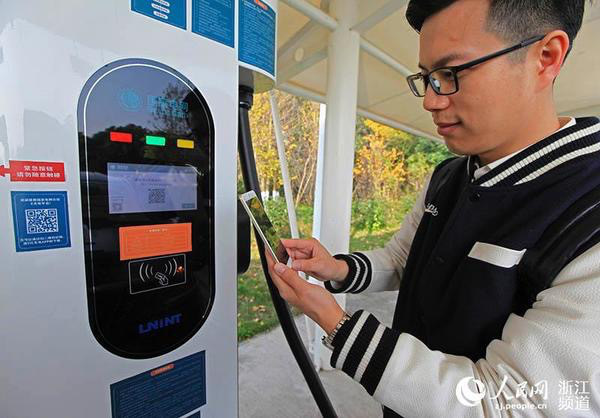 A motorist tests the quick-charging service for electric vehicles at an expressway service area in Ningbo, Zhejiang Province. The service has nearly achieved full coverage in the province. (Photo by People's Daily Online)
Zhejiang, China's eastern province will build the country's first intelligent "super expressway", the Department of Transportation of Zhejiang Province recently said.

The 161-kilometer expressway, which is currently under construction, starts from Hangzhou and goes all the way to Ningbo via Shaoxing.

It was learned that the two-way, six-lane super freeway is designed to enable travel at China's top speed limit of 120 kilometers per hour, and is projected to open to traffic before 2022 when Hangzhou hosts the 19th Asian Games.

Upon completion, it will be a green and safe expressway equipped with smart technology.

Industry insiders pointed out that the new intelligent expressway system will incorporate a comprehensive monitoring system as well as a warning system to maintain the safety of vehicles while increasing the average traffic speed.

The current average expressway traffic speed of Zhejiang is estimated at 90 kilometers per hour. Through the smart system and vehicle management, the intelligent freeway is expected to increase the average traffic speed by 20 to 30 percent.

In addition, the system is projected to support autonomous driving in the future by using Internet and Vehicles technology.

With the high-accuracy positioning, traffic-road synergy, and automatic driving systems, the vision of "accident-free" is expected to be eventually achieved.

Data shows that the number of new energy automobiles sold in China reached 777,000 in 2017, up 53 percent on a year-to-year basis.

The rapid development of China's new energy automobile industry has increased demand for hardware, including charging devices.

The short-term goal of the super expressway is to offer charging services to electric vehicles through solar power and photovoltaic generation, as well as charging piles. Mobile charging will also be made possible on the super expressway in the future.

The freeway will give consideration to both innovation and economic applicability of new materials, making it possible to be duplicated, said Ren Zhong, deputy director of the Provincial Department of Transportation.

The first phase of the project in Ningbo will be started this year.