By Liu Xuxia from People's Daily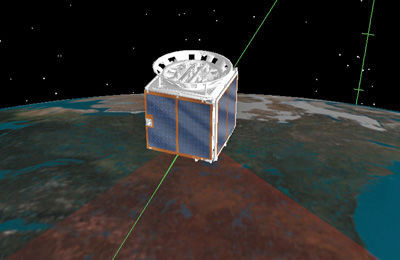 Photo taken is the orbiting Ling Qiao, a communications satellite developed by Xinwei Telecom and Tsinghua University. The two sides announced on October 26, 2014 that the in-orbit test for the smart communication experimental satellite has been completed, marking an important breakthrough in China's first low–orbit mobile communication satellite. (Photo from the research center established by Xinwei Telecom and Tsinghua University)
China will deploy a constellation composed of more than 300 low-earth-orbiting satellites to provide global communication services, an official from China Aerospace Science and Technology Corporation (CASC) disclosed.

Upon completion, the cluster would allow for Internet access and communications everywhere on the planet, including in airplanes and on ocean-going ships, said Bao Weimin, head of the CASC Science and Technology Commission.

Consisting of small satellites hovering in low orbits, the constellation will be capable of processing data in a timely manner.

Low Earth orbiting satellites (LEOs) are often deployed in satellite constellations, because the coverage area provided by a single LEO satellite only covers a small area that moves as the satellite travels at the high angular velocity needed to maintain its orbit.

A total of 54 satellites will be launched in the first stage of the three-phased project, with the first satellite to be orbited this year, according to Bao, who also said that there would be more than 300 satellites once the whole project completed.

The network of satellites is expected to ensure broadband or narrow-band communications in the deep sea, at both the northern and southern polar regions, and all parts along the "Belt and Road" routes.

The constellation, put into use, will be able to provide communication services to all terminals including mobile devices, vehicles, ships and airplanes as an information service platform in the space.

The satellite cluster is also projected to facilitate commercial applications in intelligent communication, Internet access, Internet of Things services, information sharing, navigation systems as well as aerial and maritime monitoring.