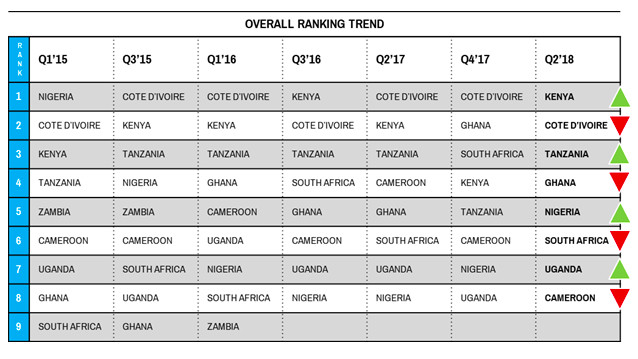 Johannesburg - The ability of Nielsen's 7th Africa Prospects Indicator (APi) report to provide a definitive profile of performance and clear country comparisons is evident in the latest edition which shows that all eight countries in the overall country ranking, shuffled position at the mid-year mark, the first time this has occurred in nearly four years.

The overall APi indicator ranking is created from macro, business, consumer and retail indicators, to create an overall indicator based on nine common datasets and 12 weighting calculations to determine the relative indicators for each of the individual dimensions.

Nielsen Executive Director Thought Leadership, Global Markets Ailsa Wingfield comments; "What is increasingly evident, is that no country is unaffected by fluctuating dynamics, although the sources of disruption and opportunity are unique to each market. Change is fast becoming convention, with success favouring companies that are able to make regular adjustments via agile strategies, operations and execution."

Fierce competition


Clear evidence of the fierce competition within the APi's overall ranking is that within the top two 'tusslers', Kenya has reclaimed Africa's leading prospect position while Cote d'Ivoire has slipped to second position. Kenya's top spot comes in the wake of a distinct improvement in the country's economic and business conditions, matching the growing consumer optimism after the extended election period in 2017. In addition, as political anxieties fade and the agricultural sector regenerates, concerns impacting Kenyan consumers have been alleviated.

In the case of Cote d'Ivoire the country is expected to be one of Sub-Saharan Africa's strongest growing economies over the next year, and Ivorian consumers are also more favourably inclined to spend, with an increasing number of retailers reporting stronger consumer spending in store. This has led to the country retaining top position for retail prospects with Ivorian retailers also the most upbeat about retail growth, with 68% of the opinion that growth will be good or excellent over the next 12 months.

Tanzania which is described in the report as one of the 'stables', returns to third place after a quarter in fifth place reaffirming it as one of Africa's steadiest prospects over time. Strong GDP growth relative to the size of the economy also pushes Tanzania into leading position on the macro-economic rankings.

Ghana and South Africa have regularly changed positions, both up and down on the index, but the longer term trend points to stronger positions for both countries, now in fourth and sixth place, respectively. Ghana's drop stems from subdued macro, business and consumer prospects


while South Africa has slipped with two consecutive quarters of GDP contraction, a severe drought and fading 'Ramaphoria', all of which have had an adverse effect on consumer confidence and spending. This has resulted in only 20% of retailers in South Africa feeling that consumer spend in-store is increasing.

On the rebound


As a 'rebounder', Nigeria reaches its best level in three years after a slow but continued recovery. Nigerians have constantly been some of Africa's most optimistic and confident consumers, and as inflationary pressures ease, consumers' volume and value spend has risen into positive territory for the first time in two years.

Uganda holds seventh place and remains lower on the rankings with weak overall macro and consumer prospects. Its consumer prospects are the lowest of the countries measured, with only 13% of retailers expressing the view that consumer spend is increasing and consumers are less open to trying new products. After peaking in fourth place in Quarter 2'17, Cameroon has slid back over the past year. GDP growth has slowed despite economic diversity, and the fragile outlook together with unrest in parts of the country, ahead of the elections, have impacted economic, business and consumer prospects.

"Amidst the relentless change the outlook for growth remains firm, but businesses have had to refine their focus on fewer countries. What is increasingly evident is that in order to bring more certainty to their success, the consumer has to be at the centre of businesses' current and future planning," concludes Wingfield.