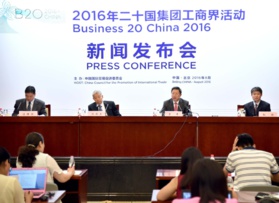 By Zhu Yueying from the People's Daily

"The five recommendations put forward by the Infrastructure Taskforce are excellent. For me, the highlights of these recommendations are the financing and the role of the Multilateral Development Bank," said John M. Beck, co-chairman of the Infrastructure Taskforce of B20 and the executive chairman of Aecon Group Inc. when commenting on this year's Business 20, or B20 Summit.

Beck said the recommendations he is most interested in are the ones that protect and insure against political and regulatory risk.

"We can establish a global insurance pool for infrastructure investments, and raise the volume and coverage of guarantees for infrastructure investments," Beck added.

Beck particularly emphasized that new methods must be found to protect infrastructure investments from changes in political and regulatory regimes.
"The B20 activities this year were extremely well-organized," he added.

"The role of Chinese companies in the development of the policy recommendations was supportive and constructive," Beck said.

In addition, he said Chinese companies can improve their role by familiarizing themselves with proven successes in other countries and jurisdictions, and picking those that best suit their corporate culture and interests.