By Liu Lingling from People's Daily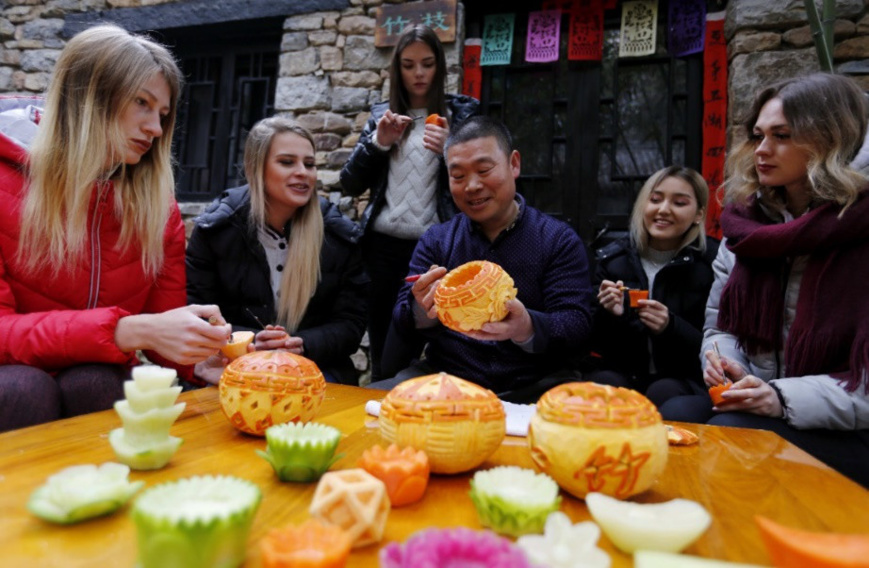 Foreign tourists learn to make turnip lanterns in Zhuquan Village, Yinan County, east China's Shandong province. (Photo from CFP)
Rural tourism has grown into not only a fresh growth opportunity of the whole industry, but also a new engine that helps impoverished rural residents improve their living conditions.

Rural tourism, which usually offers travelers the possibility to acquaint with unique natural sceneries, local conditions as well as folk customs, has gained popularity in the past Spring Festival.

Some Chinese visitors, in the week-long holiday, chose to celebrate a Tibetan New Year in southwest China's Tibet Autonomous Region, or sing and dance in the "guitar town" in southwest Yunnan province, or experience the different folk customs in ancient villages in northwest Gansu province.

The rural areas are now a new driver of the country's tourism industry, as data released by China National Tourism Administration showed that China's rural tourism consumption exceeded 1.4 trillion yuan ($221.2 billion) in 2017.

"A good ecological environment is the fairest public product, and the most accessible welfare for the people." Chinese President Xi Jinping pointed out previously, stressing that "lucid waters and lush mountains are invaluable assets".

His words have come true as rural tourism is now a new approach that helps rural residents shackle off poverty and become well off, thanks to the rural vitalization strategy launched by the government.

Farmers now do not need to leave for cities, since they can make money at home.

It's also a golden key to address other challenges the rural areas faced, including elderly care in hollow villages where working-age migrant workers have left for cities with their spouses and children but left their old parents in rural areas.

The attractive folk customs are also luring an increasing number of foreign tourists. For instance, a kind of dance named "yangko" and walking on stilts, folk traditions in east China's Shandong province, are popular among foreign travelers.

Woodcut picture in Hefei, Anhui province, and the Miao ethnic batik in Guizhou province also enjoy a reputation among those foreign visitors.