By People's Daily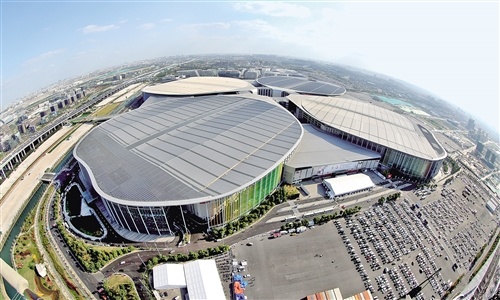 The upcoming first China International Import Expo (CIIE), which is expected to enhance the spillover effect of China's economic development and help developing countries participate in and integrate into economic globalization, will make significant contributions to the construction of a community of common destiny for mankind.

One of the key missions of the CIIE is to help least developed countries take part in it and benefit from China's growth.

The upcoming expo has by far attracted more than 140 companies from 20 least developed countries to the great opportunity to showcase quality products, tourism resources, and traditional cultures with the most distinctive characteristics of their countries.

While the concept of building a community of common destiny for mankind has been incorporated in the resolutions of the United Nations (UN), a series of global public goods provided alongside the opening up of China such as the Belt and Road Initiative and the Asian Infrastructure Investment Bank (AIIB) are spurring great momentum of cooperation.

These Chinese solutions and wisdom are receiving warm responses, and winning more hearts around the world. It is attributed to the fact that China, while achieving a higher level of opening up, continues creating conditions for other countries to aboard its express train of development and shares its development opportunities with other countries.

China will drive and improve global governance system through conforming to the intrinsic requirement of the global governance system and the reform of international order.

The concept of a community of common destiny for mankind is like a guidepost that indicates the right development direction for the disintegrated world, and it is full of inspirational power.

Where is our world going? Chinese President Xi Jinping put forward his answer to the question in his keynote speech at the 2018 Boao Forum for Asia - peace and cooperation, openness and connectivity, and reform and innovation.

The current reality shows that people around the world have never been more closely tied up by the same destiny than they are today.
The favorable tax policies in China's free trade zones will add competitiveness to the cherries from Chile and the avocados from Mexico, while the China-Europe freight trains galloping across the Eurasia have brought the flour from Central Asia, apples from Poland, and wine from France to the dining tables of the people along the routes.

The CIIE will write a new chapter of an opening China in the 40th anniversary of reform and opening up. China will propel the opening up of the world through accelerating its own opening up. The CIIE will enrich the Chinese solution to the building of a community of common destiny for mankind. It is a Chinese contribution to the world, as well as China's responsibility as a big country.