By Wen Hongyan, Yang Xuebo, Xu Qing, Song Jingsi, People's Daily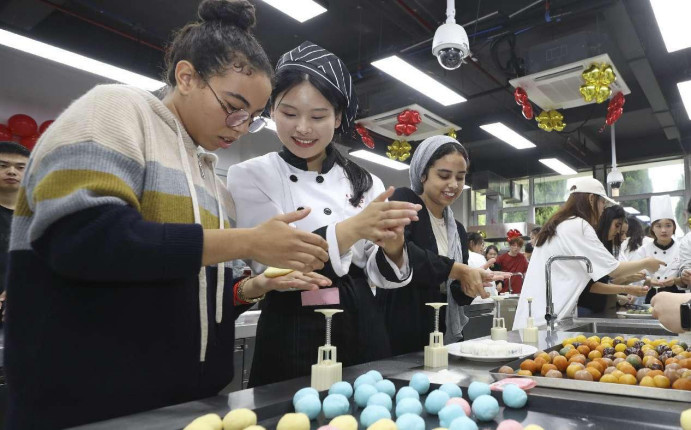 Chinese and foreign students make mooncakes in Huai'an, east China's Jiangsu province, Sept. 27, 2023. (Photo by Zhao Qirui/People's Daily Online)
The Chinese civilization has weathered vicissitudes and been passed down from generation to generation. It remains the only great ancient civilization that has developed in an unbroken line while retaining a coherent national identity down to the present day.

The five prominent features of continuity, innovativeness, unity, inclusiveness, and peaceful nature together shape the Chinese civilization, forming its profound values and systems.

The Chinese civilization, which has stretched for more than 5,000 years, provides strong cultural-ethical support for Chinese modernization. 

Chinese modernization represents the renewal, not the destruction, of the country's ancient civilization. It is a modernization originating from China's own land, not one mimicking other nations. It stems from the continuous development of the Chinese civilization, not from any rupture in its cultural heritage.

Modernization is a comprehensive development process that includes economic, political, cultural, social, and ecological aspects. It is a significant symbol of the development and progress of human civilization.

"As we have upheld and developed socialism with Chinese characteristics and driven coordinated progress in material, political, cultural-ethical, social, and ecological terms, we have pioneered a new and uniquely Chinese path to modernization, and created a new model for human advancement," said Chinese President Xi Jinping at a ceremony marking the centenary of the Communist Party of China (CPC).

Today, China's economy is shifting towards high-quality development, and there is a continuous emergence of material achievements, which lays a solid material foundation for Chinese modernization.

Democracy is a common value of all humanity and a distinctive feature of modern political civilization.

When visiting the Gubei civic center in Changning District of Shanghai in November 2019, Xi talked to Chinese and foreign residents attending a consultation meeting on a draft law. He said China is on the path of socialist political advancement with Chinese characteristics, and people's democracy is a type of whole-process democracy. His remarks revealed the features and advantages of socialist democracy.

The CPC initiated the National People's Congress and the Chinese People's Political Consultative Conference, which has a close relation to the Chinese civilization's people-oriented philosophy, idea of collective governance, political tradition of "republic" and "deliberation," and political wisdom of "inclusiveness, mutual learning, and seeking common ground while reserving differences."

China has a unitary state structure and a regional national autonomy system. It conforms to the general trend of cohesion within the Chinese nation and unity in diversity.

China did not follow the old Western path, but rather has created its own modernization path suited to itself. China did not directly copy Western democratic models, but has created its own form of democracy with Chinese characteristics.

Democracy takes different forms, and there is no one-size-fits-all model. It would be totally undemocratic to measure the diverse political systems in the world with a single yardstick or examine different political civilizations from a single perspective.

In today's China, democracy has turned from a value into an institution and governance mechanism. The 1.4 billion Chinese people are enjoying rights and dignity like never before.

The essence of modernization is the modernization of people. Replacing backwardness with progress and eliminating poverty with prosperity aligns with the historical trend and represents the moral imperative of human progress.

People-centered development philosophy has introduced a series of pioneering initiatives to promote common prosperity and realize fairness and justice, doing everything to resolve the most practical problems that are of the greatest and most direct concern to the people, and making active efforts to solve the most pressing difficulties of high concern to the people. As a result, the people's sense of gain, fulfillment, and security has become more substantial, better assured, and more sustainable.

China abandons the Western path of modernization that is capital-centered, polarized, full of materialism, expansion and pillage. It represents the direction of the progress of human civilization.

While pursuing happiness for the Chinese people and rejuvenation of the Chinese nation, the CPC has also contributed to human progress and world harmony.

"Hegemonism is not in China's DNA; nor does China have any motivation to engage in major-power competition. China stands firmly on the right side of history, and believes that a just cause should be pursued for the common good," said Xi at the closing ceremony of the BRICS Business Forum 2023 on Aug. 22. He once again explained China's unwavering commitment to the path of peaceful development from the perspective of civilization.

Facing the changes of the world, of the times and of history, the CPC always uphold humanity's common values of peace, development, equity, justice, democracy and freedom. It is committed to promoting mutual learning among civilizations and advancing human progress.

Chinese modernization, as a new form of human advancement, will draw upon the merits of other civilizations and make the garden of world civilizations more vibrant.