By Han Xiaoming from People's Daily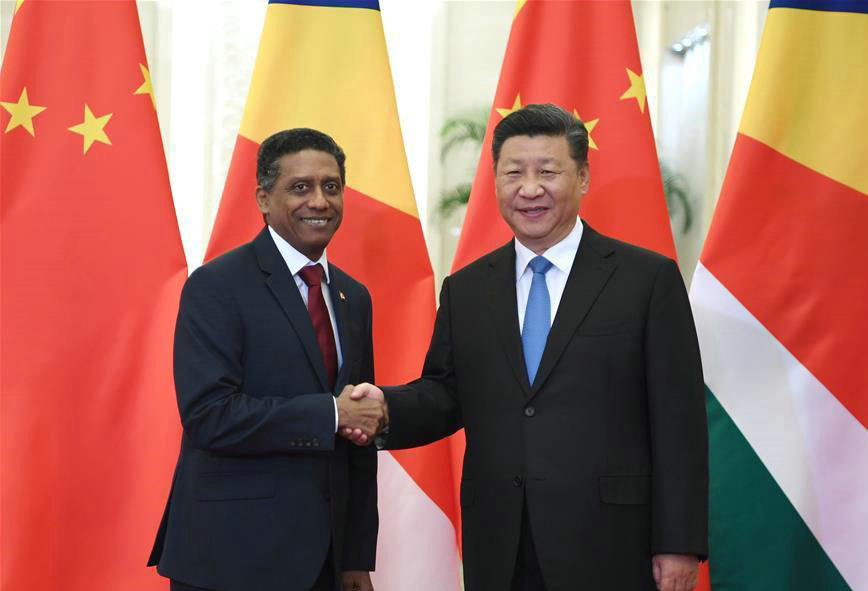 The upcoming 2018 Beijing Summit of the Forum on China-Africa Cooperation (FOCAC) will take both sides one step closer towards a stronger community of common destiny, Seychelles President Danny Faure said, believing the summit will be a success.

Describing the China-Africa ties as better than ever in history, the president added that African countries and China have always been a community of a shared destiny.

The president made the remarks in a written interview to the People's Daily before kicking off his Chinese visit, during which he will attend the summit scheduled for Sept. 3-4 in Beijing.

"In order to assess the China-Africa cooperation we have to look back at the long standing and historical ties that have helped us to create an excellent bond of friendship based on mutual trust and respect," Faure pointed out when commenting on bilateral ties.

He added that African countries and China have always stood by each other in times of need and will do the same in the future, because both sides share the same goals, understanding and a close affinity to support and create more opportunities for the benefit of the two peoples.

The president recognized the significance of the FOCAC Summits, saying that since its inception, the mechanism has always strengthened Africa-China relations and created more avenues of cooperation for both sides to explore, in order to build more shared collaboration and development.

"Based on this, the 2018 Beijing FOCAC Summit is taking place at an opportune time whereby we find ourselves enjoying the best levels that our relations have ever reached," Faure said, adding that this follows all the past hard work and commitments that the two peoples have devoted to building this strong and dynamic China-Africa relationship.

African countries and China, who understand the needs of each other, will depict new blueprints for bilateral cooperation in the Action Plan 2019-2021 under the FOCAC framework, according to the president.

He elaborated that the new measures to be adopted are based on past experiences and evaluations of past challenges faced under previous Action Plans.

"We now have a much better understanding of where we want to go from here. We are confident that through the Action Plan 2019-2021 we will be successful at achieving all our goals," he stressed.

Faure also said that Seychelles expects to discuss on the needs of Small Island Developing States, tourism, climate change, ocean economy and other topics together with other African countries and China at the upcoming Beijing meeting.

When commenting on China's African policy of sincerity, practical results, affinity and good faith and striking a right balance between upholding principles and pursuing benefits put forward by Chinese President Xi Jinping, he said that these principles are those China has been extending to African countries for a long period of time.

The economies of African countries are growing at a very fast pace and their trade capabilities are strengthening day by day, he pointed out, adding that this has created a very important market for global partners that seek to trade with African countries.

Faure also lauded the significance of the China-proposed Belt and Road Initiative, saying that African countries, together with other countries worldwide, require the right infrastructure development that will make connectivity and trade easier to take place, and the Belt and Road Initiative will no doubt make this a reality.

"So the opportunity to access financing for infrastructure development that will facilitate trade is being offered by China," he added.

Refuting the calumnious noises in the western media about China-Africa cooperation, the president stressed that the cooperation between African countries and China is a story of close friends that seek to build more cooperation in order to create more win-win outcomes.

"Misrepresenting what the Africa-China relations stand for is wrong," he underlined, adding that China is now playing multiple positive roles at various international fora and international organizations.

"Because of this, China stands in a much better position to support global concerns such as climate change, and to encourage others to avoid adopting negative forms of international governance that seek to destroy or harm the international rules system," he told the People's Daily.

The FOCAC Beijing Summit is very important to the current and future infrastructure development, financial, economic and trade cooperation between African countries and China, Faure hailed.

"It will create new catalysts that will boost cooperation, create new opportunities and more win-win outcomes for all FOCAC participating states," he concluded.