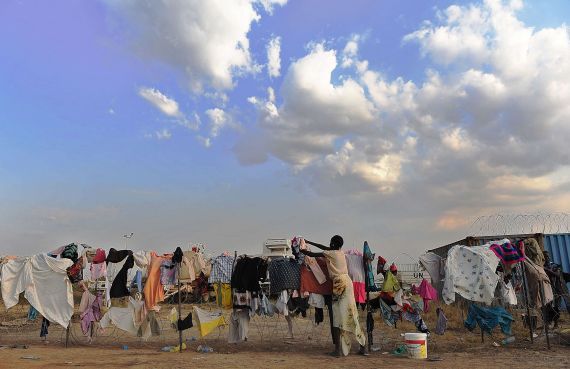 Une jeune Sud-Soudanaise étend son linge sur les barrières d'un camp de la mission des Nations Unies au Sud-Soudan, près de Juba où les gens affluent, de peur des massacres. - TONY KARUMBA - IMAGEGLOBE
According to the UN, rebel gunmen killed over 200 people at a mosque in the centre of town after determining their ethnicity.
Al Jazeera, the only international broadcaster in the area, has obtained exclusive footage of over 100 dead bodies that were seen along the road between the airport and the mosque in Bentiu. According to a UN report, the real savagery happened inside the mosque in Bentiu, where mainly Darfuris from Sudan had taken sanctuary.
What is going on here is disgraceful," says Mary Cumins, the UN acting Unity State co-ordinator. "What we have seen in Bentiu town and Rubkona town is utterly horrible and beyond description. The number of bodies that are lying around on the streets as we drive through is…the inhumanity of man to man makes me speechless."
Bentiu, like other towns in South Sudan, has changed hands several times since the fighting between government soldiers and rebel groups started in December. The UN has accused the rebel forces of killing civilians based on their ethnicity.
South Sudan's rebel commander Riek Machar however told Al Jazeera his forces were not behind the massacre. Machar, who was dismissed as vice president by President Salva Kiir in July 2013, says that his rebels would not kill their own people: "I contacted the field military commander in Bentiu who told me that such an accusation is false. First of all we respect our people. The majority of the forces are from the region and we can't kill our citizens."
For further information, visit http://aje.me/QBaSUp,