By Ji Peijuan from People's Daily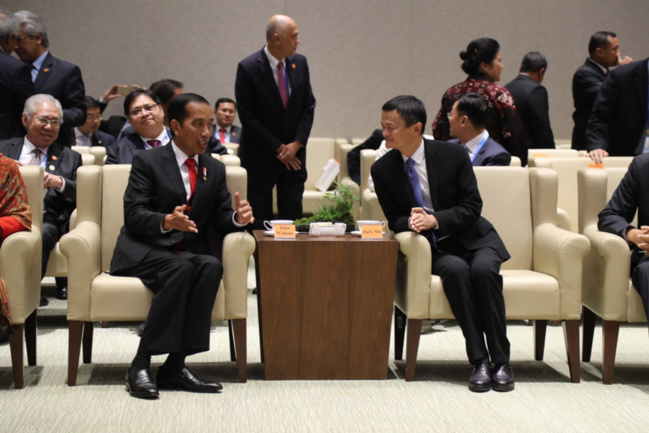 Indonesian President Joko Widodo (left) talks with Alibaba CEO Jack Ma (right). (Photo: Alibaba)
Indonesian President Joko Widodo, offered Jack Ma, CEO of China's e-commence giant Alibaba, the position of his country's economic adviser on Friday.

Joko made the offer during their dialogue at Alibaba's campus ahead of the G20 summit to be started on Saturday.

Praising the huge development space of Indonesia's e-commerce industry endowed by its 56 million small and medium-sized enterprises (SMEs) and huge population, Ma said that Alibaba appreciates the support the Indonesian government rendered to e-commerce businesses and SMEs.

He added that Alibaba can give a boost to Indonesian market as its business model suits the latter very well.

Ma also shared with Joko his idea of an electronic world trade platform (EWTP) that aims to share the benefits of globalization with SMEs and young people worldwide.

With such a platform, young people around the world can make transactions with only computers and mobile phones, he said, adding that Indonesia is also an important stop in this proposal.

Joko invited Ma to be his country's economic consultant, saying that with 56 million SMEs, Indonesia hopes to expand their access to Chinese and global markets based on the platform provided by Alibaba.

A series of cooperation was launched between the Southeast Asian nation and Alibaba previously. On July 8, both sides announced the launch of "Inamall", an online platform operating on Tmall Global, to sell Indonesian products to Chinese consumers. Alibaba also owns a controlling stake in Lazada, an online shopping mall popular among consumers of Indonesia and other Southeast Asian nations.

Alibaba is the first business stop of Joko's Chinese visit. Indonesia-based website detik.com said that by visiting Alibaba, the Indonesian president hopes to develop the domestic e-commerce industry, and to export local products like civet coffee (kopi luwak) and snacks to China through Aliexpress.