By Zhang Huizhong from People's Daily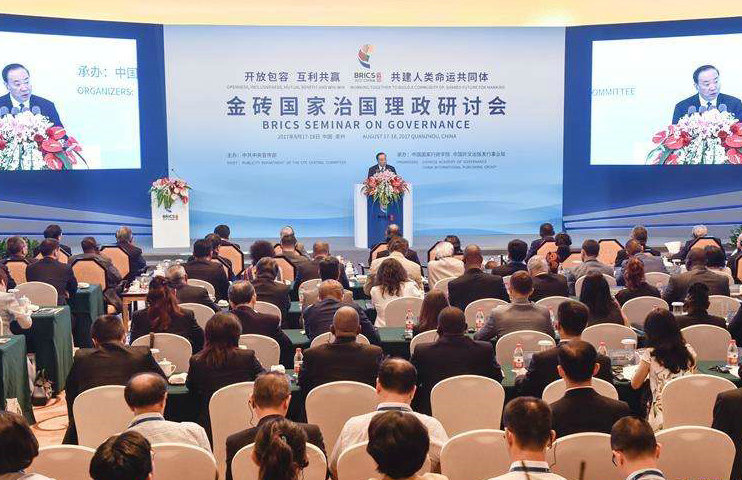 The BRICS Seminar on Governance opened in southeast China on 17 August, during which over 160 representatives from BRICS members - -Brazil, Russia, India, China and South Africa -- as well as other developing nations brainstormed ideas on how to usher BRICS cooperation into another "golden decade".
The two-day Seminar, themed with "Openness, Inclusiveness, Mutual Benefits and Win-Win: Working Together to Build a Community of Shared Future for Mankind", served as an important supporting event of the ninth BRICS Summit to be held early next month.
The academics, consultants and business leaders, during the meeting held in Quanzhou, Fujian Province, contributed their wisdom on how to enrich the outcomes of the upcoming summit.
The meeting also passed a "Quanzhou consensus" that encourages the signatories to prioritize development, launch mutually beneficial cooperation, engage in global governance in an active manner and learn more from other civilizations.
The representatives agreed that an intensified exchange of state governance experience will endow the BRICS members with a better prospect.
The great vision mapped out by Chinese President Xi Jinping on global governance could make unique contribution to the win-win cooperation of the entire world, Robert Lawrance Kuhn, chairman of the US-based Kuhn Foundation, said when commenting on China's new governance ideas.
He believed that the Chinese experience can play a big weight as the world is now working on a way to transform the current global governance system.
Xi's ideas, including improving the public's well-being by eliminating poverty, are down-to-earth, hailed Director of the China-Brazil Center for Research and Business Ronnie Lins.
BRICS countries, confronted by similar challenges, also share similar development goals, Lins said, suggesting that China's experience on state governance can serve as an important reference for other bloc members.
Edith Phaswana, senior lecturer at South Africa-headquartered Thabo Mbeki African Leadership Institute, told the People's Daily that she appreciates the development path chosen by China, adding that China realized its growth after picking a suitable road. This is also Phaswana's first Chinese trip.
Impressed on China's development accomplishments, she advised that the emerging markets and developing economies can learn a lot from China's governance experience and apply that to their own growth path.
The lecturer furthered that some nations tried to copy the trajectory of developed nations, but the ill-suited remedy blocked their way ahead.
The participants also placed high expectations on the forthcoming summit. The BRICS cooperation has expanded its ground rapidly in the past 10 years, said Swaran Singh, a professor at Jawaharlal Nehru University.
He suggested closer cultural exchanges in the future, so that the public will have a stronger sense of belonging.
The BRICS mechanism is growing into a key driver of global governance system, Shen Yi, director of the Center for BRICS Studies at Fudan University, told the People's Daily, adding that the BRICS members are now vital engine of world economy.
He elaborated that BRICS cooperation not only provides new solutions to global economic governance and the proceedings into a broader structure of global governance, but also reflects the understanding of emerging and developing economies on building a more equal-footed new order of global governance that can bring the mankind into sustainable development.
Phaswana is bullish on the future of BRICS mechanism, explaining that BRICS cooperation not only reaches its member states, but also drives the common prosperity of other emerging and developing nations in the region. It acts as a platform on which other nations can share and learn advanced experience, she added.