By Wang Cong in Goa and Yang Sheng in Beijing, Source: People's Daily and Global Times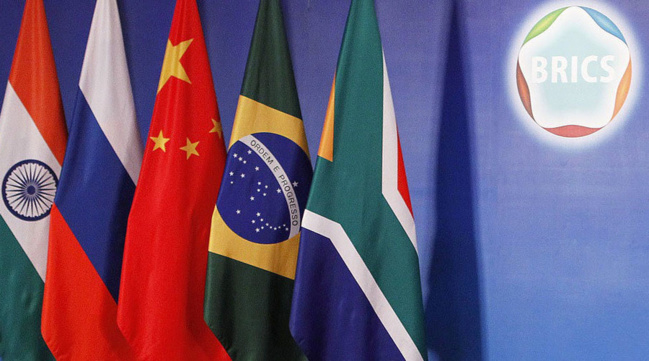 Though terrorism and Pakistan consumed much of the attention at the BRICS summit, cooperation on trade and investment still topped the agenda as the five leaders of emerging economies vowed Sunday to tackle the global economic slowdown and reform the world's financial architecture.

"We meet at a time when the global economic recovery is progressing ... but downside risks remain," the leaders said in the Goa Declaration, noting that commodity price volatility, weak trade, high private and public debt, inequality and the lack of inclusiveness in economic growth are all challenges the global economy faces.

They vowed to use "all policy tools - monetary, fiscal, and structural - individually and collectively, to achieve the goal of strong, sustainable, balanced and inclusive growth."

The leaders also said they will continue to strengthen cooperation through existing initiatives under the BRICS mechanism, such as the New Development Bank (NDB), while continuing to focus on initiatives on areas such as e-commerce, "single window" trade, intellectual property, micro, small and medium enterprises.

The NDB will provide loans worth $2.5 billion next year after making its first loans to back green projects, its president KV Kamath told Reuters.

He also said that the Shanghai-based bank had approved loans to develop the renewable energy sector.

Zhu Jiejin, a senior researcher at the Institute of BRICS Studies at Fudan University, told the Global Times that renewable energy is acceptable for every party and Western countries, and the NDB was right to choose this area as a starting point, but in future, the NDB might require some innovations.

The BRICS - Brazil, Russia, India, China and South Africa - agreed to create the NDB in July 2014, with an initial capital of $100 billion. The lender was officially launched a year later.

"The fact is these countries collectively have in the last few years contributed to more than 50 percent of incremental economic wealth generated globally," said Kamath. "I don't see that changing."

Areas such as non-tariff measures, the services sector, and standardization and conformity assessments are "possible areas of future cooperation," the declaration said.

"And to further strengthen the global governance architecture," it said BRICS is exploring the possibility of setting up an independent BRICS Rating Agency based on market-oriented principles.

In an address at a meeting with the BRICS Business Council, Chinese President Xi Jinping said despite slower growth rates, "BRICS' potential and advantages in resources, market and labor has not changed, and the long-term development potential remains huge."

Xi urged the BRICS Business Council to instill confidence in the BRICS economies by consolidating the member countries' resources, push innovation in the BRICS economies to achieve sustainable growth, and to facilitate "pragmatic cooperation" among companies in the BRICS countries to improve competitiveness.