By Bai Yang, Wang Haonan from People's Daily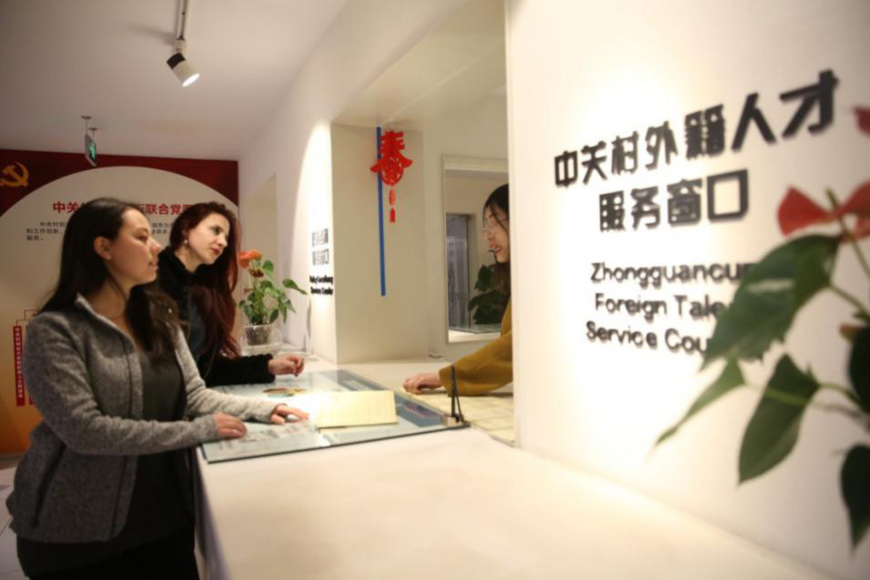 A service counter is set up on September 20, 2017, to offer efficient one-stop services for foreign talents. (Photo from z-innoway.com)
Beijing government rolled out 20 new measures in a recently released policy paper to woo overseas talents to its high-tech hub Zhongguancun, known as China's "Silicon Valley".

The 20 measures, aiming to provide better services to global talents, cover facilitation of exit and entry in the capital, control-lifting over recruitment and use of international talent, business environment-building and improvement on social security services.

In addition to eased requirements for permanent residency permits, the new measures have made breakthroughs in many other fields. According to the new policy, foreign talents will be able to lead scientific researches on national level, and those with permanent residence are allowed to assume the legal person of new research institutions.

The new package aims to attract and keep more global talents, create favorable environment for them and help them better adapt to Chinese society, said Zhai Lixin, director of the Zhongguancun Science Park.

Besides Beijing, a number of other Chinese cities such as Hangzhou and Shijiazhuang have also adopted new policies and measures to attract foreign talents.

Thanks to a series of talent-introducing policies, including the "Thousand Talent" program launched in 2008 as well as the issuance of revamped "green cards", China has established an interconnected talent-attracting system covering all levels and reaching all channels.

Up to now, human resources have contributed 35 percent to China's economic growth, with the contribution rate of talents reaching as high as 32.5 percent.

In the past five years, 3.35 million foreigners have worked in China as the country is more attractive to high-end talents.

China has been a strong magnet for global talents and will increasingly change the global brain flows, noted a 2018 talent mobility report jointly released by Forbes and Wailian Overseas Consulting Group, a Shanghai-based investment and immigration company.

As China sees a bigger influx of overseas returnees, its four first-tier cities including Beijing, Shanghai, Guangzhou, Shenzhen, and newly-emerged first-tier cities such as Wuhan and Chongqing are all turning into highland that global talents prefer.