By Wang Xinping, Xiao Xinxin from People's Daily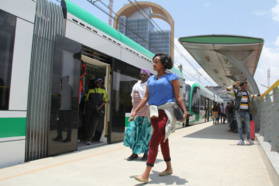 The Belt and Road Initiative proposed by Chinese President Xi Jinping has provided new grounds for the cooperation between China and Africa, whose destinies are bound together by similar historical sufferings, common development tasks and shared strategic interests.

After Xi put forward the building of the Silk Road Economic Belt and the 21st Century Maritime Silk Road respectively in Kazakhstan and Indonesia in the autumn of 2013, the proposal has been echoed by many countries including those in Africa, who bear a hope of grasping opportunity to pursue common development with China and the whole world.

Over the past half a century, China and Africa, an extension of the Belt and Road in terms of both geographic location and historic bonds, can always find new converging interests and growth drivers for bilateral cooperation at every critical development stage to push for new progress and maintain strong vitality of bilateral ties.

Kenya has ushered into a new chapter of railway modernization, after the Chinese-built standard gauge railway linking Mombasa and Nairobi opened to traffic, and another railway linking Nairobi to Malabar started construction in 2017.

The railway plan of Kenya once thought to be a "daydream" is coming true, said James Macharia, Kenya's Cabinet Secretary for Transport, Infrastructure, Housing and Urban Development.

Since construction of the Mombasa-Nairobi railway, the project has created nearly 50,000 local jobs, trained over 5,000 technical workers, and offered business chances for more than 400 local subcontractors, and nearly one thousand local equipment, material and service suppliers.

People's stronger sense of happiness has said it all, said Thulani Gcabashe, Chairman of Standard Bank of South Africa, adding that more and more counties have realized the far-reaching significance of co-construction of the Belt and Road after years of development.

As China is committed to realizing the Chinese dream of national rejuvenation, Africa is striving to achieve its African dream of gaining strength from unity and achieving development and rejuvenation.

Given such circumstance, African countries have been longing for integrating themselves deeper into the tide of economic globalization by docking their development strategies with the Belt and Road Initiative.

The determination of China and Africa to develop hand in hand can also be evidenced by various documents signed by the two sides at the Belt and Road Forum for International Cooperation held in Beijing last year, including the economic and trade agreements Kenya and Ethiopia inked with China.

Other signed documents also included financing deal on infrastructure projects, loaning agreement on inland container depot project, and memoranda of understanding on energy cooperation.

Kenya also became the sixth African country to join the Asian Infrastructure Investment Bank (AIIB) after it gained the approval this May.

Recently, China inked the Memoranda of Understanding on co-construction of the Belt and Road with Senegal and Rwanda, and reached consensus with Mauritius on signing the Belt and Road agreement as soon as possible.

The Belt and Road Initiative has brought huge benefits to African countries, lauded Lemma Senbet, the Executive Director of Africa Economic Research Consortium (AERC).

He suggested that African countries should cast their eyes on China when propelling their economic diversification and regional integration drive, as the China-Africa partnership is based on mutual respect and pursuit for common dreams.

The upcoming Beijing Summit of the Forum on China-Africa Cooperation is expected to reach new consensus under the theme of "China and Africa: Toward an Even Stronger Community with a Shared Future through Win-Win Cooperation".

The two-day meeting scheduled to be kicked off on Sept. 3 will help accelerate the alignment of African countries' development strategies with co-construction of the Belt and Road, the 2030 Agenda for Sustainable Development as well as the Agenda 2063 of the African Union, so as to break new ground for China-Africa cooperation, and push both sides for common development at a higher level.