By Li Zhiwei from People's Daily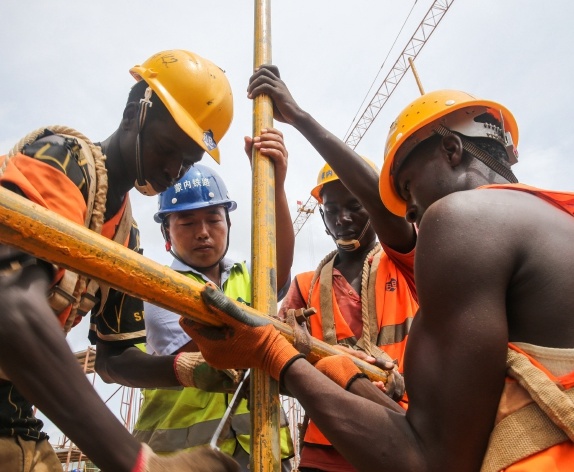 Senior high school student Fama joined the happy crowd on the streets of Dakar to welcome Chinese President Xi Jinping on his state visit to Senegal, July 21. Full of curiosity about China, the girl has been dreaming about going to the country one day.

"SUNU JAPPO" in Wolof means "holding the hand tightly", she said when talking about Xi's signed article titled "SUNU JAPPO, China and Senegal!" published on mainstream Senegalese newspaper Le Soleil ahead of his visit.

China and Africa are very good partners and friends that held their hand tightly, she added.

Lionel Appetto teaches Chinese-related lessons at Marien Ngouabi University in the Republic of Congo after finishing studies in China. In his opinion, China has a long history of conducting exchanges with Africa, and Africans and Chinese are good brothers.

"When I traveled abroad, I saw Chinese people as my own brothers. We talked and soon we were like old friends that had always been close," said Appetto.

"In every African country I travelled, I saw roads, railways and bridges built by Chinese companies and factories invested by them. I really feel the Chinese friends have done a lot for us," he said. "Chinese people have offered tangible assistance to Africa and move forward with us."

Africa's development is closely linked to that of China, said South African economist Martyn Davies, demonstrating a picture which indicates that Africa and China started to share similar development paths since the beginning of this century.

The diagram means that China and Africa have maintained close contacts at the economic and trade level, he believes.

"If a man has a water pot on his head, his brother will not be thirsty," says an African proverb. In reality, the African people will bear in mind China's friendship as described in the phase.

For instance, China has funded Senegal's rural water supply project that includes 251 wells and 1,800-kilometer pipelines. The project will benefit one seventh of the country's population.

Also, the water pipes built by Chinese enterprises in Djibouti have solved water problems of two thirds of the locals. Such cases are everywhere in Africa.

"Be good to your friend and help each other. This is what Chinese culture and African culture share in common," Appetto made an impressive comment.

In African culture, people share a common destiny. The decades-old Umuganda culture in Rwanda encourages joint efforts and mutual help for common goals.

"Nit, nit ay garabam (Man is the remedy of man)", says a Wolof proverb. South Africa's "Ubuntu" philosophy also stresses the interdependence between people. Similarly, there is a Chinese saying to the effect of "one for all, all for one".

As an African saying goes, "A river runs deep because of its source." Having gone through thick and thin together, China and the vast African countries are bound by similar historical experience, same development tasks and shared aspiration for a better life.

Currently, China-Africa cooperation has ushered in a new era, and the trickle of China-Africa friendship is converging into the rivers and oceans.