By Wang Tian, Jiao Xiang, Yu Jinghao, Zhang Zhiwen from People's Daily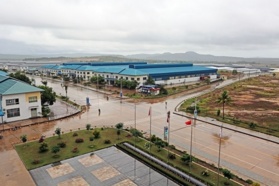 Sihanoukville port, once a piece of barren and impoverished land in southwestern Preah Sihanouk province, has now grown into a prosperous field thanks to China-Cambodia collaboration under the "Belt and Road" initiative put forward by China.

The Sihanoukville Special Economic Zone (SSEZ) built on the port is among the first 8 overseas economic and trade cooperation zones approved by Chinese government, and also an important cooperation project between China and Cambodia.

"The booming SSEZ is a model for China-Cambodia pragmatic cooperation," Chinese President Xi Jinping pointed out when visiting Cambodia last October.

Cambodian Prime Minister Hun Sen, on multiple occasions, also expressed his expectation to build the special economic zone into the "Shenzhen in Cambodia".
Located at key juncture along the route of the "Belt and Road", SSEZ is now a flagship economic zone since the win-win cooperation project has benefited local residents.
"I could hardly express my feeling when I came here 10 years ago, since it was a mess here," recalled Jiang Jun, manager of engineering department of SSEZ.
The first factory building was delivered in 2009 after conquering various hardships, and the park finally took initial shape at the end of 2012.
"Greatly inspired by the 'Belt and Road' initiative proposed by Xi in 2013, we brought the construction of the special economic zone onto a fast lane, with the number of registered enterprises growing at a fast pace," Cao Jianjiang, general manager of the SSEZ said, adding that the zone is now an international industrial park.
So far a total of 160 mills have been built on the soil of first-phased 5-square-kilometer park, and 109 textile, clothing, luggage and leather enterprises have been introduced, of which 94 are China-funded ones.
The industrial output of the zone, where 16,000 people are working, has contributed more than 50% to the economy of Preah Sihanouk province.
The arrival of Chinese companies has completely changed the small village of Sihanoukville port where cement buildings, electricity, and tap water didn't exist before.
Eung Sarum, Chief of Township Bet Trang, told People's Daily that they used to live on corps and tree-cutting, but now almost each household, who has members working in industrial park, can afford to buy a motorcycle, adding that their lives have been much improved.
Chinese enterprises have donated multimedia classrooms, aided impoverished students and provided free training of Chinese and skills for local villagers, said Kaev Boutthy, President of Primary School of Township Bet Trang.

"I'm grateful to China," she said while pulling her palms together, which is the most sincere way for Cambodians to express appreciation.

Local government officials and scholars also hailed the "Belt and Road" initiative to the People's Daily.

Khlot Thyda, President of Royal Academy of Cambodia (RAC), believes that the initiative, which aims at common development, is a win-win proposal with practical significance.

The 76-year-old woman added that the world will embark on a road of peaceful development if every country could join the initiative.

"The 'Belt and Road' initiative is about inter-connectivity which brings new opportunities," noted Sok Chenda Sophea, Secretary General of the Council for the Development of Cambodia (CDC).

Apart from the park, China and Cambodia have enriched the outcome list from pragmatic cooperation under "Belt and Road" initiative.
Chinese enterprises have built and renovated 20 roads in the country, covering a mileage of 2,669 kilometers and accounting for more than 35% of the total mileage of Cambodia's highway.
The 8 newly constructed super-large bridges have also greatly improved the country's transportation and facilitated the locals.
In addition, 6 completed hydro-power stations and 3 power grid networks contributed a lot to local people's livelihood and economic growth by ensuring the electricity supply for almost the whole country.
Cambodia has not entered the era of peaceful construction until 1998. After decades of wars and chaos, Cambodian people have nurtured a strong desire for development.
So far, Cambodia has already become one of the most robust and promising Asian countries. Behind its rapid economic development are its continuously deepened cooperation and in-depth exchange of experiences with China, for which SSEZ can serve as the best evidence.
The rise of the special economic zone is a result of the top design of the two governments, communication between related departments, and concerted efforts of the enterprises.
The zone not only incorporated China's successful experience in constructing industrial parks, but also created a development pattern unique to Cambodia.
Sok Chenda told People's Daily that the professional, earnest and diligent Chinese entrepreneurs have brought fantastic Chinese experiences to the zone, and the SSEZ has all the factors for success as the most promising special zone in Cambodia.