Source: People's Daily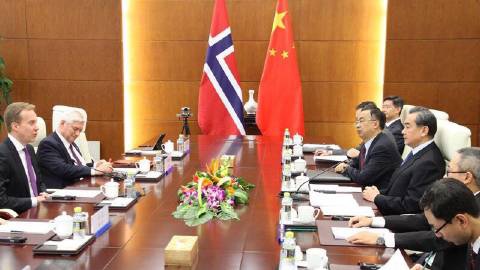 China-Norway relations will enjoy a healthy, stable and sustained development, Chinese Ambassador to Norway Wang Min said in a commentary published in People's Daily on Friday, when Prime Minister Erna Solberg of Norway kicked off an official four-day visit to China upon invitation.

It is the first visit to China paid by a Norwegian Prime Minister in the recent decade, and also the first meeting between top leaders of the two countries after a turnaround of bilateral relations at the end of last year.

Reviewing the twists and development of the China-Norway relations in recent years with his personal experience, Wang praised Norway's efforts and achievements in improving the relations with China.

The following is the full text of the article:

Norway is among the first Western countries to recognize the People's Republic of China. It is also the first Western country to ink cultural agreement with China, the second European nation to admit China's market economy status, as well as the earliest European state to negotiate a free trade agreement with China.

Back to those days in history, China and Norway yielded fruitful outcomes from close cooperation in politics, economy, culture, education, technology, polar research and sports.

However, the wrong decision made by Norwegian administration on issues related to China's core interest and major concerns seven years ago resulted in a disastrous retrogress of bilateral relations, undermining political foundations of both sides.

With stalled bilateral cooperation in each field, the ship of friendly cooperation between the two countries encountered a storm.

Through extensive contact with Norwegian residents in all walks of life after I arrived in Norway as Chinese ambassador in March 2016, I have felt the friendship of the country toward China.

Many of my Norwegian friends told me that they feel sorry about the loss of bilateral relations caused by the Norwegian side, hoping the relations between the two countries could return to the right track.

A senior Norwegian citizen has impressed me very much. Though suffering from an incurable disease, he is still working hard to normalize China-Norway ties, in a hope to see a turnaround in the bilateral relations for the rest of his life.

In my lecture delivered in middle 2016, I have mentioned that Norway lagged behind almost all its European peers in terms of developing relations with China, and it has missed many chances of cooperation. I was deeply impressed by the anxious and expecting faces of the audiences.

Norway is a country with a number of far-sighted and excellent statesmen. Since the establishment of this Norwegian administration, Solberg has devoted much energy to improve relations with China.

Norwegian Minister of Foreign Affairs Borge Brende, who has a close bond with China, has also made the normalization of China-Norway ties a priority of his work. After rounds of intense negotiations, both sides finally reached consensus on many key issues concerning improvement and development of bilateral relations.

Bilateral ties finally dispelled the clouds after both governments released a statement on the normalization of bilateral relations during Brende's Chinese visit last December.

Norway, in the announcement, pledged to fully respect China's development path and social system, respect China's sovereignty and territorial integrity, attach high importance to China's core interests and major concerns, and never support actions that undermine them.

Reiterating its commitment to the one-China policy, the Norwegian government vowed its utmost efforts to avoid any future damage to bilateral relations.

China and Norway have highly complementary economies and have great potential for cooperation.

Faced with the lingering recession in global economy and a rising tide of anti-globalization, Chinese President Xi Jinping's speech delivered at the World Economic Forum in Davos this January has been greatly lauded by the Norwegian people.

China and Norway share same or similar viewpoints on such agendas as free trade, climate change and sustainable development.

During Solberg's Chinese visit, leaders of the two states will have an in-depth exchange of opinions, set directions and principles of bilateral relations, determine key cooperation areas and witness the signing of a series of bilateral agreements. Her visit will mark the restart and full recovery of China-Norway cooperation.

I believe that the relations between China and Norway will enjoy a healthy, stable and long-term development to make the ship of bilateral friendship sail again, as long as both countries keep the pledge on normalization of bilateral relations and stick to the principles of mutual respect and equality.