By Li Zhiwei, Liu Lingling from People's Daily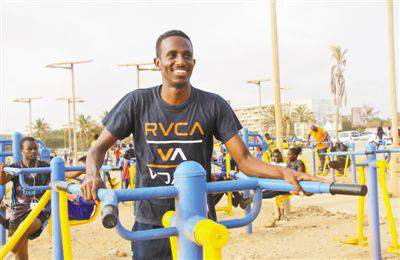 A Senegalese man is doing exercise in the China-aided fitness park in Dakar. (Photo by Li Zhiwei from People's Daily)
A China-aided fitness park located in Dakar, capital and largest city of Senegal, which is now a demonstrative project for China-Senegal cooperation on livelihood, is another witness of sincere friendship between the two countries.

Built in 2016 with China's assistance, the coastal park has been very much favored by local residents. The park near the University of Dakar usually embraces its busiest time of the day during the sunset when sport lovers gather for practices including running and gymnastics.

"Apart from running or playing soccer on the beach, the locals now have a better place for doing more kinds of exercises," a girl named Virginia told People's Daily, adding that she comes to the park three or four times each week and it is a good resort for relaxation.

A large number of local young people are frequent visitors to the beach gym like Virginia has. However, homemade barbells were the only gym equipment for local youngsters before the park was built due to the lack of an ideal site.

"I come here before and after school," said a 27-year-old student surnamed Ziza from University of Dakar. "We love sports. This gym park is a warm gift that represents the profound friendship between China and Senegal," he added.

The fitness park is a witness of the sincere friendship between two countries, said a Senegalese surnamed Samba who had studied in China for six years, believing that sports play a significant role in people-to-people exchanges between China and Senegal.

He told People's Daily that both the Senegalese and Chinese love sports, and sports serve as a bond that links them.

Besides the locals, many foreigners also like doing gym in the coastal park. A 23-year-old Djiboutian surnamed Moosa, who is now studying in Dakar, said the seaside gym park is a good place and he stays there for more than two hours a day for exercises.

"Such sports facility makes us happy. I hope that Djibouti can also build such modern facilities so that young people can spend more time on shaping their bodies," said Moosa, adding that young Africans love sports, but lack facilities, so he wants more parks of this type in Africa.

Multiple fitness parks have been built along the Corniche ouest Boulevard in Dakar by Chinese Embassy and Chinese enterprises in Senegal, as a support for Senegal's efforts in mass sports, said Han Xiaofei, Economic and Commercial Counselor of Chinese Embassy in Senegal, explaining that the locals' love for sports can be seen in their enthusiasm for soccer and running.

The gym equipment, exercisers, and children's entertainment fitness facilities have to a great extent satisfied the need of the local residents, Han said, adding that the equipment are so popular that locals often need to wait for their turns.

The popular coastal park costs only less than 3 million yuan in its phase-1 project. Chinese Ambassador to Senegal Zhang Xun told People's Daily that the park has received high reputation, and the youngsters are the largest group benefited, since physical practice is a everyday routine for young sports lovers there.

He said many Senegalese provincial governors have expressed hope to introduce such park to their respective provinces. Now 5 fitness parks have been built in 5 of the country's provincial capitals, and 2 more will be added.

Even many African ambassadors to Senegal are asking China to introduce such facility to their countries.