By Han Xin, People's Daily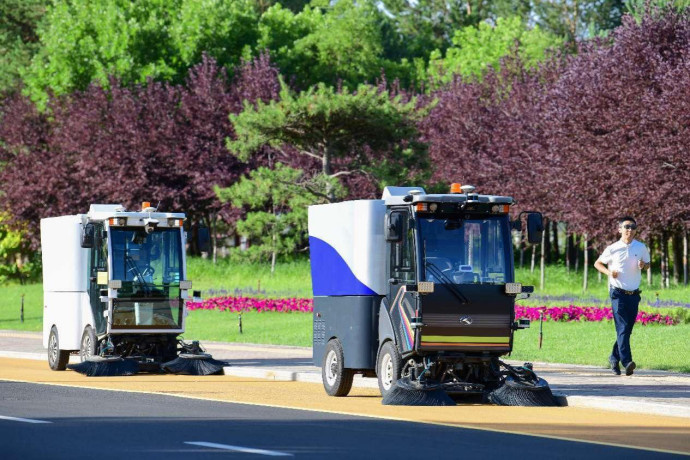 Self-driving street cleaning vehicles work in a street in Ordos, north China's Inner Mongolia autonomous region. (Photo by Wang Zheng/People's Daily Online)
China is making great efforts to promote the in-depth integration of information technology (IT) into its transportation sector. With new products and new business models continuously emerging across the country, people across China are benefiting from improved travel experiences in various scenarios - from city streets to intercity expressways.

This summer, many people in China have found that map apps can display shaded "sun protection" routes for pedestrians in real-time and automatically recommend a shady route based on user's destination.

"By leveraging remote sensing technology, our app can intelligently identify the distribution density of trees around roads, and calculate the dynamic light and shadow condition of road sections based on relevant factors of specific locations," said an executive of leading Chinese mapping service provider Amap.

Thanks to the application of intelligent mobile terminal technologies, urban transportation services in China have witnessed significant improvement in quality and efficiency.

"There are peaks and valleys in urban travel demand. The waiting time for taxis spike during rush hour," said Li Xinhua, general manager of the taxi division of Amap's ride hailing services.

In an effort to improve the supply-demand matching efficiency, Amap has leveraged big data to predict congestion and adjust pricing in real time, according to Li.

IT is penetrating every corner of urban transportation in China, continuously meeting people's diverse and individualized travel needs.

Data released by China's Ministry of Transport (MOT) showed that over 300 Chinese cities have ride-hailing services, with over 25 million daily orders; and that a total of 15 million shared bikes have been deployed nationwide, generating over 28 million orders on a daily basis.

"Rapid economic development has stimulated more demand for transportation, while challenges like congestion, accidents and pollution have become increasingly prominent," an official of the science and technology department of the MOT pointed out.

IT, represented by artificial intelligence (AI), can provide new approaches to enhancing the service capabilities of transportation infrastructure, the official noted.

By building and transforming intelligent facilities, which enable dynamic adjustment of signals based on real-time vehicle flows, at 332 intersections, Beijing Economic-Technological Development Area, also known as E-Town, in China's capital city Beijing, has achieved remarkable results in addressing traffic congestion.

The intelligent facilities have reduced queue length by 30.3 percent and unnecessary time of green lights by 18.33 percent in relevant areas.

Xiangyang Hi-Tech Industrial Development Zone in Xiangyang city, central China's Hubei province, has seen autonomous driving services expanding to over 140 application scenarios of the Internet of Vehicles (IoV), 234 intersections, 510 kilometers of two-way roads, and an environment for large-scale city-level application covering an area of 150 square kilometers, according to an executive of a project of the Central and Southern China Municipal Engineering Design and Research Institute Co., Ltd.

On local roads for testing intelligent connected vehicles (ICVs), autonomous shuttle minibuses provide scheduled pickups for passengers, while self-driving sanitation vehicles carry out automated sweeping tasks.

Chengdu city, capital of southwest China's Sichuan province, has adopted a "transportation brain" powered by Chinese IT firm Inspur's storage products and services. Boasting a strong capacity to identify more than 100 million pictures for traffic violations daily and meet other needs for traffic management, the "transportation brain" has helped the city increase its vehicle management efficiency by nearly fivefold and the efficiency of traffic flow by around 15 percent.

Leveraging its extensive road network, China has ramped up efforts to further promote the application of AI technology in transportation systems, striving to accelerate the development of expressways by expanding the application scenarios of AI technology beyond urban areas to intercity routes.

On the Chengdu-Yibin Expressway connecting the cities of Chengdu and Yibin in Sichuan province, there is a pole every 800 meters along the divider. The pole is loaded with various devices, including traditional devices like camera and modern devices including millimeter-wave radar. These devices can help achieve accurate real-time monitoring of road conditions 24 hours a day.

"By utilizing new-generation IT like AI, we can not only intelligently analyze exceptions like speeding, contraflow driving and emergency parking, but also enable vehicles on expressways to obtain beyond line-of-sight information in a timely manner," said Chen Ken, chairman of Sichuan Digital Transportation Tech Co., Ltd.

According to Chen, since the installation of these devices, 73.8 percent of the accidents that have taken place on the expressway have been proactively discovered by relevant personnel based on alerts sent by an AI-empowered system, and the average response time has been shortened by nearly 34 percent.

The Taihu tunnel on the Suzhou-Wuxi-Changzhou expressway, which is 10.79 kilometers in length, is equipped with an intelligent lighting system that automatically adjusts brightness according to environmental changes. The bright yet gentle lighting from the ceiling of the tunnel creates a relaxed atmosphere, easing driver tension and fatigue from driving for long periods of time in an enclosed space.

Moreover, full coverage of 5G network and the BeiDou Navigation Satellite System (BDS) services enable passengers and drivers to enjoy uninterrupted and high-quality Internet access and travel guidance.

As a key direction for high-quality development of the transportation sector, smart transportation promises broad prospects.

According to an official of the science and technology department of the MOT, smart transportation will show three key features: extensive application of intelligent and automated vehicles, which will significantly reduce the incidence of human error-induced accidents; infrastructure that is more resilient, which will enable safe travel anytime; and highly efficient transportation management based on systems with exponentially improved network capacity.