By Ren Yan, Fang Yingxin from People's Daily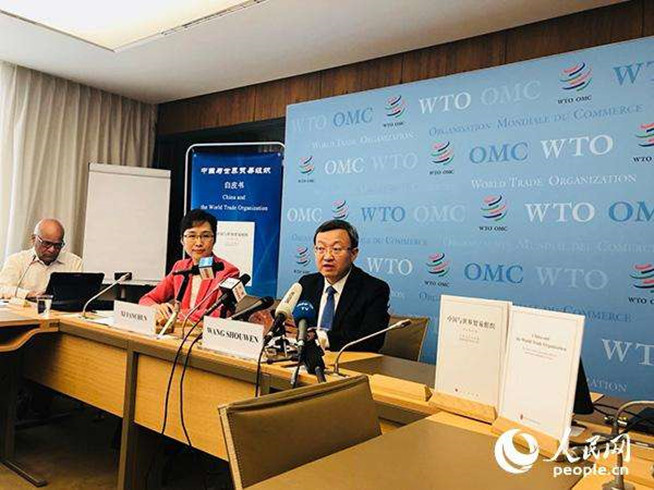 A press briefing is held to introduce the white paper titled "China and the World Trade Organization" on July 12, 2018 at the WTO headquarters. (Photo from People's Daily Online)
China has created significant opportunities and made great contributions to world economic and trade growth since its accession to the World Trade Organization (WTO) 17 years ago, a senior Chinese official said on Thursday.

Wang Shouwen, China's vice minister of commerce, made the remarks at a press briefing on a white paper titled "China and the World Trade Organization", a document released by China's State Council Information Office for the first time on June 28.

During the briefing attended by over 30 reporters, Wang, also deputy China international trade representative, elaborated China's principled stand and policies on construction of multilateral trade system, as well as China's visions and actions for an opener market.

Over the past 17 years, China has grown into a major engine driving world economic recovery and growth, with a contribution of nearly 30 percent on average per year to global economic growth, Wang said, pledging that China will continue its support to the multilateral trading system advocated by the WTO.

China had also honored all of its commitments on trade in services by 2007, as 100 sub-sectors under nine sectors had already been opened up then, he said, adding that China never stopped its endeavor in widening market access of investment even though the WTO did not set special requirement for the country in this regard.

China, since its entry into the WTO, has made faithful efforts to fulfill its promises and to integrate itself into the multilateral trading system, according to the official.

Citing the trade in goods as an example, Wang said that China fulfilled all of its tariff reduction commitments as early as in 2010, with its average tariff level down to 9.8 percent from 15.3 percent in 2001.

"China has endeavored to liberalize and facilitate trade and investment, safeguarded the dispute settlement mechanism, fully participated in trade policy review, and vigorously supported the integration of developing members into the multilateral trading system," Wang said.

As a staunch dissenter of unilateralism and trade protectionism, China has protected the authority and effectiveness of multilateral trading system with concrete actions, he added.

China will push itself much further in its opening up way even though it has fulfilled the promises, Wang vowed, explaining that it will strive for a more balanced trade and boost trade facilitation by following the trend of world's development.

It will substantially widen market access, create a more attractive environment for foreign investment, and encourage sound and rational outward investment, in committing itself to opening up wider and deeper to promote common development across the world, he said.

It will work with other countries to build a human community of shared destiny characterized by mutual dependence and intertwined interests, the official added.