By Peng Min from People's Daily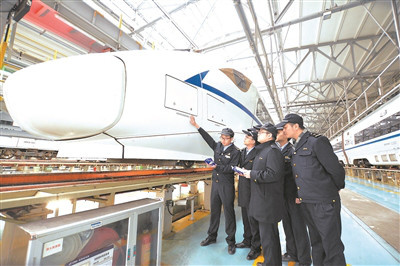 On-board machinists attend a training. (Photo from the official website of China Railway Corporation)
China is working on a new type of bullet trains with autopilot system to better facilitate the 2022 Winter Olympics, Zhao Hongwei, a member of the 13th National Committee of the Chinese People's Political Consultative Conference (CPPCC) disclosed.

The new bullet trains are expected to be operated on the high speed rail between Beijing and Zhangjiakou, two host cities of the 2022 Winter Olympics, added Zhao, also chief researcher at the China Academy of Railway Sciences.

"From accelerating to stopping, everything can be done with only a press on the button of the train," the chief researcher noted on the sidelines of the first session of the 13th CPPCC National Committee on March 3.

Apart from autonomous driving, energy-saving and environment-friendly technologies and materials will also be used, the researcher said.

Zhao disclosed that the research team is developing a new platform based on the 350 kph Fuxing model. Trains under the new platform will be able to run at speeds of 250 kph and 160 kph to suit different operation environments and geological conditions.

"Fuxing" trains were first put into operation last year, making China the country that operates the world's fastest train service.

Holding complete intellectual property rights of the Fuxing model, Chins has filed more than 4,000 patent applications for the train.