By Li Yingyan from People's Daily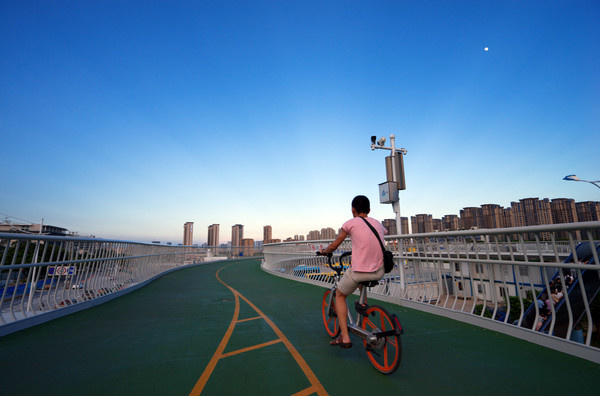 A man rides his bicycle on Xiamen's bicycle skyway. (Photo: CFP)
China, once hailed as the "kingdom of bicycles", is encouraging the return of the two-wheelers as more places across the country are exploring the construction of bicycles-only expressways.

A bicycle expressway will be put into use in Beijing before the end of this year, linking Huilongguan and Shangdi areas in the northern part of the city.

The expressway enjoys independent right of way and is exclusive to bicycle riders, said a source from the Beijing Municipal Institute of City Planning & Design, adding that with no automobiles running on the passage and traffic light, it will to a great extent ease the traffic pressure for the 370,000 residents living in the Huilongguan area.

It is not the first bicycle-only expressway in China. Xiamen of southeastern China's Fujian province has already taken the lead .

China's first and the world's longest aeriel bicycle lane has been opened to traffic for more than a year in Xiamen. The bicycle skyway, elevated 5 meters above the ground below the city's raised bus transit line known as the BRT, is a two-lane divided highway that stretches 7.6 kilometers and 2.5-meters wide for each lane.

With no occupation of the current traffic resources, the elevated skyway constitutes a "rainbow" that hangs above the city.

"Everyday I ride my bicycle on the skyway to my office," said a citizen surnamed Zhu, adding that the commuting time, which is half an hour if he takes a bus, has been shortened to 5 or 6 minutes by the innovative passage.

Statistics from the contractor of the project showed that so far the bicycle skyway has been used by 410,000 citizens, or over 4,000 per day, with a peak daily flow standing at 12,000 people. The skyway also won the China Human Settlements and Environment Award in November 2017.

Aside from Beijing and Xiamen, Guangzhou and Chengdu are also planning such projects. Analysts said that bicycle expressways not only reflect a city's wisdom in making itself smarter and healthier, but also significantly improve its livability.