By Hou Lulu from People's Daily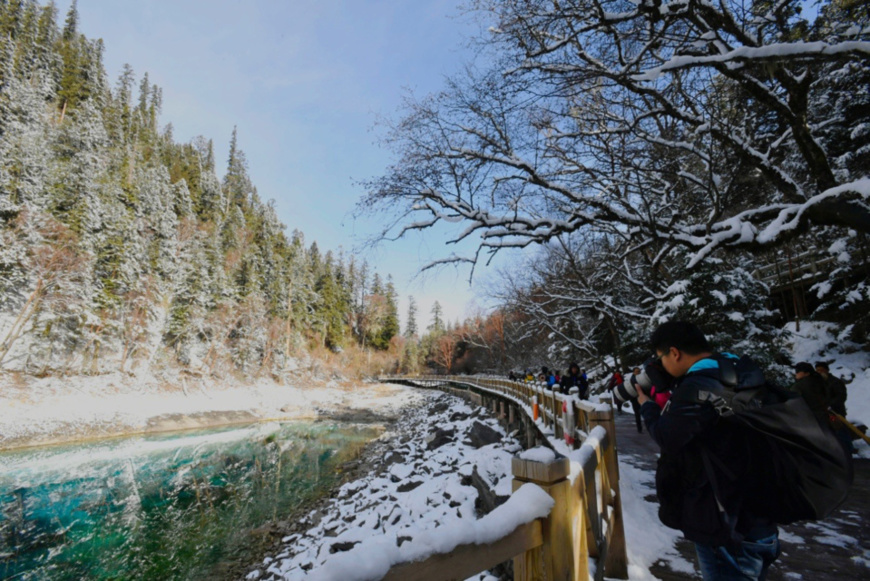 The Jiuzhaigou scenic area welcomes the first group of tourists on March 8, 2018. (Photo from CFP)
Jiuzhaigou, a scenic area in southwest China's Sichuan province, partially reopened for the first time on March 8 since the devastating earthquake last year. On the first day of reopening, it received more than 700 tourists.

The scenic area was closed the second day after a magnitude-7.0 quake hit Jiuzhaigou County, Aba Tibetan and Qiang autonomous prefecture in the province on Aug. 8, 2017, causing five deaths. It remained closed to tourists during the 7 months of renovation.

Since some of the scenic spots are still under reconstruction, only part of the spots is opened and the number of tourists is limited to 2,000 each day, according to the administrative bureau of Jiuzhaigou.

The bureau disclosed that the scenic area is only open to tourist groups instead of individual tourists for the moment, and the tourist areas, number of tourist, travel time and travel modes will continue to be limited in the next period to come.

The Jiuzhaigou scenic area is located in the northwest of Sichuan province and about 400 kilometers away from Chengdu, capital city of the province.

As a national 5A-class tourist attraction and a UNESCO World Heritage Site, the Jiuzhaigou scenic area is home to spectacular natural sceneries of lakes, mountains, waterfalls and verdant forests, and Tibetan customs, attracting a large number of tourists from home and abroad every year. Statistics show the scenic area received over 5 million travelers in 2016.