By Huan Xiang from People's Daily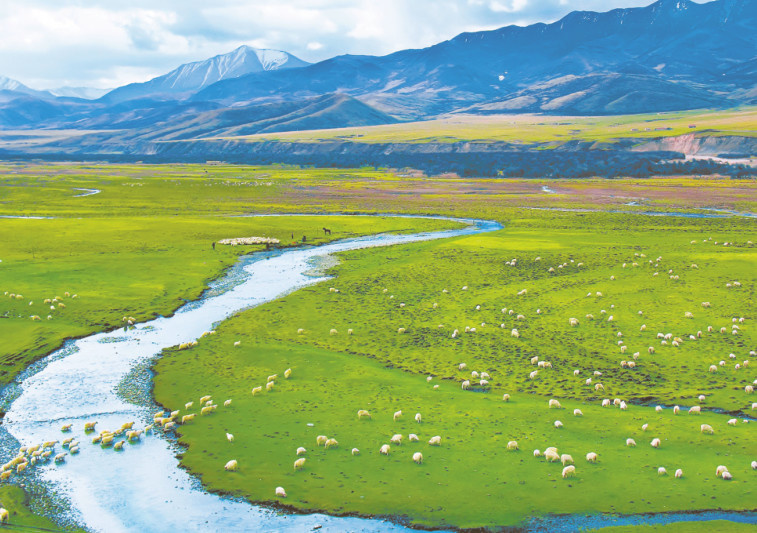 A panoramic view of the Sanjiangyuan area. (Photo from the administration bureau of Sanjiangyuan National Park)
Northwestern China's Qinghai province has taken a string of measures to make sure that China's first national park in the Sanjiangyuan area will open as scheduled in 2020.

"The establishment of the pilot national park in the Sanjiangyuan area is a significant move to protect the ecological environment of Qinghai, and we will spare no efforts to accomplish it," said Wang Guosheng, a deputy to the 13th National People's Congress and secretary of the Communist Party of China (CPC) Qinghai Provincial Committee on March 8.

The Sanjiangyuan area, located in southern part of Qinghai province, is home to the headstreams of Yangtze, Yellow and Lancang (Mekong) Rivers. It is an important water source reserve and a protective screen for ecological security.

It is the first pilot program for China's national park system. With a total area of 123,100 square kilometers, it will be established on the regions around the water sources, covering five sub-areas of conservation including Kekexili National Nature Reserve and Sanjiangyuan National Nature Reserve.

With the aim of protecting the headwaters of the Yangtze, Yellow, and Lancang (Mekong) rivers, it is scheduled by 2020 to officially become China's first national park administered by the central government.

According to a plan issued by the National Development and Reform Commission in January, by 2020, the park would take shape as a demonstration zone of ecological protection and restoration on Qinghai-Tibet Plateau, and a natural conservation zone of Qinghai-Tibet Plateau.

By then, it will also be a pioneer zone on which the human and nature could co-exist harmoniously, reads the plan. By 2025, the country shall have formed unique national park services, as well as management and research systems.

The ultimate goal of the plan is to make the national park in the Sanjiangyuan area into a role model of eco-protection and institutional innovation by 2035. In addition, it will be built into a modernized park, serving as a reference for its peers.

Since 2016, Qinghai has established a new management system for the pilot program, such as an administrative bureau of the Sanjiangyuan National Park, and three management committees responsible for Yangtze River, Yellow River and Lancang River source areas.

The province has made new mechanisms to protect eco-system, enhance social participation, and attract more talents for the pilot program. A total of 14,000 jobs have been created for local herdsmen, improving income of local households.