By Zhao Yipu from People's Daily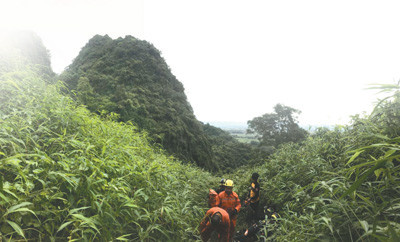 Members of the Green Boat Emergency Rescue search for trapped Thai people at the cave entrance. (File photo)
In the evening of July 2, when all the 12 boys and their football coach who were trapped in a flooded cave in northern Thailand for nine days were finally discovered, Thai rescuers extended their sincere thanks to a Chinese private rescue group for the latter's generous help in the rescue.

After the incident happened, Green Boat Emergency Rescue sent an experienced 5-member team to join the search and rescue work at the invitation of related Thai departments to search for the missing football members on June 29.

"We received warm thanks from the Thai people, and we are all excited," said Wang Xudong, who was in charge of the rescue mission of the Green Boat Emergency Rescue.

Before the Chinese rescue team officially joined the mission, it had already offered much assistance to Thailand, including massif and cave measuring, as well as cave locating. The efforts of the Chinese side were highly appreciated by Thailand.
After arriving at the site, the Green Boat Emergency Rescue worked at the command center run by the Thai army, to search for channels that lead to the inside of the cave.
In order to find ways to the cave, the Chinese rescue team traveled long distance in the mountain. They had to immediately devote themselves to work every time they arrived at a pre-planned location though they were almost exhausted from carrying the heavy equipment.
Their hard work, capabilities, as well as techniques and attitude, won them high reputation from their Thai peers.
Most of the Green Boat Emergency Rescue members were born in the 1970s and 1980s. Having participated in a series of major rescue missions such as the 2014 Typhoon Rammasun, 2014 Ludian earthquake, and 2015 Nepal earthquake, they have gained rich experiences in rescue.
Secretary Dong Ping of the rescue organization told People's Daily that most of the members hope to realize their personal values, and most of the rescue missions they join are difficult and dangerous.
Both Thai government and people expressed their sentiment and gratitude to the participating foreign rescue teams, and the Chinese team was also impressed by the close bond between China and Thailand. The member of the Green Boat Emergency Rescue said that their tents were always refilled with food every night they were back from rescue site.
Thai ambassador to China Piriya Khempon spoke highly of the private Chinese rescue team after the latter finished the mission and came back to Beijing. He said the Chinese rescue team demonstrated high professionalism and the spirit of collaboration.
"China and Thailand are friendly neighbors, and the Thai people are grateful to the assistance from their Chinese friends," the ambassador noted.