By Huang Fahong from People's Daily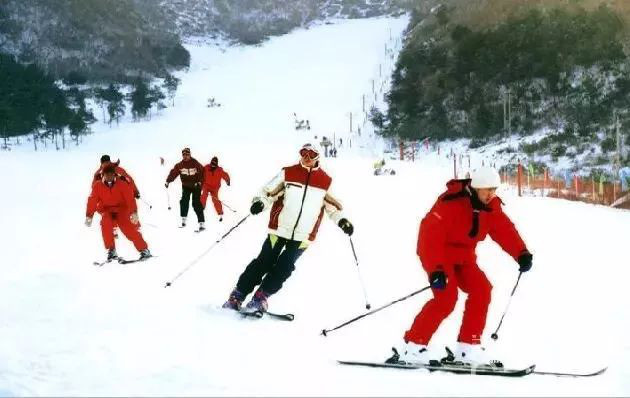 Photo shows a ski resort in a village of Liaoyang city, northeast China's Liaoning province. More and more villages in Liaoning province like Wangwaizi have embarked on the path of development through eco-tourism in recent years. (Photo by People's Daily Online)
Bidding farewell to mining industry and developing winter tourism under the national rural revitalization strategy, a village in northeast China has put on a new look.

Wangwaizi village in northeast China's Liaoning province has put an end to outdated industries, such as coal mining and logging, in line with the province's mission to cut overcapacity and eliminate backward production capacity during the country's economic transformation.

Now, the village has become a snow and ice resort, which not only protects the environment but also creates economic benefits. Lucid waters and lush mountains have been translated to invaluable assets here.

After snow, local villagers would come out of their houses to shovel the snow and then transport it to a mountain for building ski runs and other snow attractions. The mountain has become a hot destination for tourists across the country.

Back to years ago, 85 percent of the 420 households in the village lived on over 60 coal mines of different scales. After the mines were shut down, logging industry emerged and thrived, further damaging the environment.

To protect the environment and find a sustainable development mode, in 2014, the then-director of the village committee Lin Yu'an led villagers to build a recreational tourist resort, with 1,000 villagers becoming shareholders. They evacuated the snow and built a 1,000-meter-long ski run. The attraction turned out to be very welcomed among tourists, which the villagers never expected.

The well-protected forest resources have enabled the village to develop eco-tourism. Besides skiing in winter, travelers also come here to view red leaves in autumn.

Driven by tourism, villagers are becoming better off. Now, the village is presenting a new look with improved road conditions, cleared irrigational canals and ditches, clean rivers and newly-built houses.

The villagers are also engaged in breeding industry and photovoltaic power generation industry, which also give a boost to local tourism by generating an annual total profit of more than 1 million yuan and offering jobs for 200 residents.

As a result of the thriving economy, 128 migrant workers have come back to the village. Some of them work for the scenic spot, while others sell local products and run homestays. As shareholders, they will get dividends at the end of the year, which they think is better than working elsewhere.

Chinese Premier Li Keqiang pointed out in a report on the work of the government delivered on March 5 that strong moves will be made in the rural revitalization strategy.

As part of efforts to fulfill the mission, plans will be well designed and the institutions and mechanisms to achieve integrated urban-rural development will be improved, he said, adding that reform and innovation will be needed to build powerful new growth drivers for rural development.

The positive changes in Wangwaizi village is a vivid display of the country's national rural revitalization strategy of changing the countryside and increasing farmers' income by innovating industries and models and developing green and ecological economy.