By Qiang Wei, People's Daily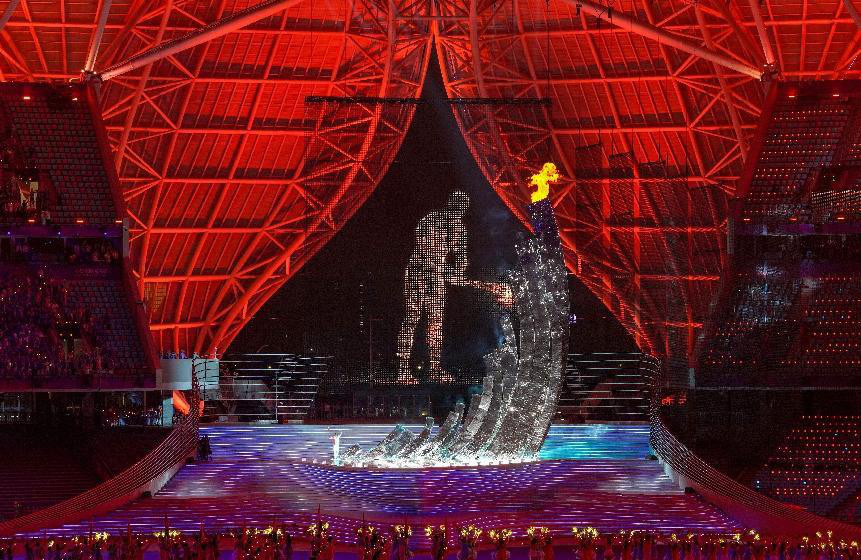 Olympic champion swimmer Wang Shun and a digital torchbearer jointly light the Asian Games cauldron at the opening ceremony of the Hangzhou Asian Games, Sept. 23, 2023. (Photo by Zhang Yongtao/People's Daily Online)
On the evening of Sept. 23, the opening ceremony of the 19th Asian Games kicked off at the Hangzhou Olympic Sports Center Stadium. Combining the beauty of nature, culture, sports, and technology, it touched millions of viewers.

What excited the audiences both inside the stadium and in front of TV sets the most was the moment when Olympic champion swimmer Wang Shun and a digital torchbearer jointly lit the Asian Games cauldron.

As six human torchbearers passed on the torch in the stadium, also known as "the Big Lotus," the digital torchbearer - made up of over 100 million virtual sparks, each representing a participant of the online torch relay - took giant strides toward the cauldron. After the digital figure and Wang jointly lit the cauldron, the Asian Games flame gushed out from the fire pit inspired by the tidal bore of the Qiantang River.

It was the first digital ignition ceremony in the Asian Games' history, and also the first one participated by over 100 million people. It highlighted the results of three years of efforts made by the technological team, who conducted over 100,000 tests and wrote more than 200,000 lines of codes. The team integrated its independently developed Web3D interactive engine Galacean, AI figures, cloud services and block chain technology to build a digital platform able to accommodate more than 100 million users, perfectly fusing the virtual and real worlds.

It was also the first time that the concept of "intelligent Asian Games" was proposed in the history of the Games. Numerous technological achievements and cutting-edge technologies have been widely applied throughout the entire process of the Asian Games.

From the deployment of the three core systems of the Hangzhou Asian Games, namely Results Distribution System, Games Management System, and Games Support System, to all event data and supporting data processed on the "cloud," and to shuttle services by autonomous driving buses, and the use of digital twin technology to ensure venue operations, the "intelligent Asian Games" has truly lived up to its name.

The Hangzhou Asian Games has opened a window to observe China's technological innovation, mirroring a bright future where digital technology will drive the development in multiple sectors.